Posted
September 17, 2013
Lessons on American football help international students become part of the crowd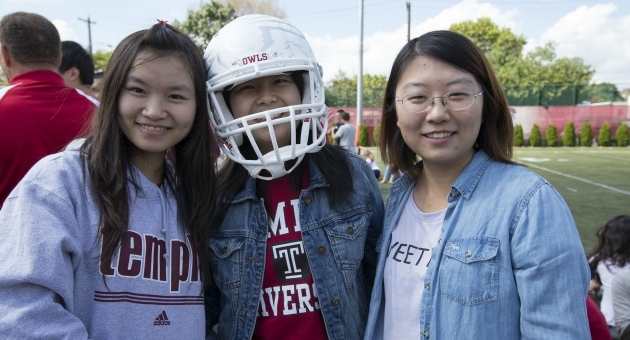 Baseball may be America's favorite pastime, but in her first fall in the U.S. international student Kia-Han Chang found herself intrigued by a different American sport. 
"Everyone in America watches football," said the 23-year-old Taiwan native. "I like to watch, but I never know what's happening. I just cheer for the Owls."
To help the university's growing international student population get acclimated to their new home, the Office of International Scholars and Student Services offered "Football 101," an hour-long program designed to introduce new students to the rules of the game. The day began with opening remarks from Temple Head Coach Matt Rhule, followed by hands-on demonstrations.
About 100 students showed up for the informal session in which international students were given an opportunity to try on football gear and run plays with members of the Owls Football team.   
"The helmet is too tight," said Chang, who transferred to Temple to study theater arts and filmmaking. "I still don't understand how they play so long in all of that gear."
For students from abroad, becoming part of the fall football crowd helps instill a sense of school pride and helps foster new relationships, said Michael Jackson, program organizer and professor of sports management and leisure in the Fox School of Business. The program is just another way of creating a supportive environment for international students at Temple.
"Instead of sitting around in the residence halls over the weekend, we want to encourage all international students to learn more about football and join their classmates at games," said Jackson. "Football, the way it's played in the States, is not the same in Europe or Asia."
A total of 349 new undergraduate and transfer international students joined the Temple University family this year, a 56 percent increase over last year's enrollment, said Brooke Walker, assistant vice president for global programs in the Office of International Affairs. The spike in enrollment is in part due to the new International Admissions Office, she said. Members of the International Admissions Office are currently scouring recruits in China, Brazil, India, Korea, Taiwan, Vietnam and the Middle East.
"Our goal is to have an international campus," said Walker. "Not all of our students are able to travel abroad; the next best thing is to bring the world to campus. It helps our students gain a more global perspective without leaving home."