Posted
September 25, 2013
New creative outlets for Temple University Photography
Instagram and Temple Photo of the Week capture life at Temple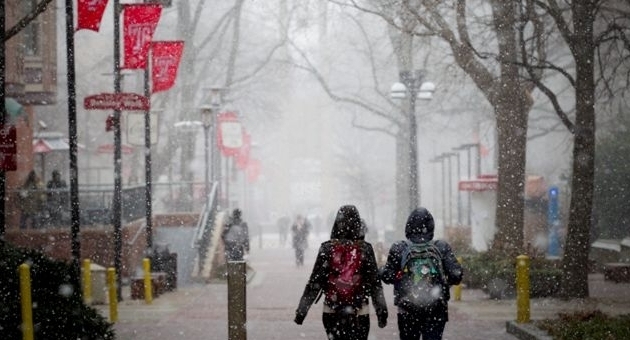 You've seen their photos in viewbooks, media guides, annual reports, newspapers, magazines and even on billboards. Now Temple University Photography has new social media and web outlets where you can see the work of the university's professional photographers — and where they can showcase new ways of capturing the Temple experience in images.
This summer, Temple Strategic Marketing and Communications launched an official Temple Instagram account, @TempleUniv. Instagram, a photo and video sharing and social networking service used by more than 150 million people, has exploded in popularity since it debuted three years ago. Featuring images taken and curated by Senior Photographer Joseph V. Labolito, University Photographer Ryan S. Brandenberg and Manager of Photography and Digital Assets Betsy Manning, Temple's Instagram account includes spectacular campus skylines, quirky streetscapes, candid portraits and more. Recent additions include archival photographs and short videos. In the two months since it was launched, @TempleUniv has added more than 2,300 followers, a rate of almost 40 new followers a day.
Manning, SMC '87, has enjoyed experimenting with Instagram's digital filters and square format. But most of all, she appreciates the immediacy of shooting with a smartphone and sharing images instantly.
"I like that the photos are totally accessible to so many people all at once," said Manning, who has been with Temple University Photography for nine years. "It shows where I am at Temple, right now."
Strategic Marketing and Communications also has launched university-wide distribution of Temple Photo of the Week, another outlet for unconventional images by Temple University Photography. Every Tuesday, Labolito, Brandenberg and Manning choose one photograph — a shot that they find on or near campus when they're not on assignment, an out-take or something special from their archives — that is shared on Temple's Twitter feed and the University's Facebook page. Every Wednesday, the Temple Photo of the Week is distributed by email to more than 60,000 members of the extended Temple community via "Temple Today." Unlike Instagram images, photos chosen for Temple Photo of the Week are produced with professional-grade equipment, aren't digitally manipulated and are available in high resolution. A gallery of past Temple Photo of the Week selections is available online.
The Instagram account and Temple Photo of the Week have given Temple photographers the freedom to explore types of images of the university they've seldom shared before, from photos of Temple's infamously aggressive squirrels to brilliantly lit studio still lifes.
"It's self-directed," said Brandenberg, who came to Temple in 2006. "Everything else we do tends to be assigned. This allows for a more documentary approach. And it gives us a chance to capture unexpected things."
Given freedom, it's no surprise that the unifying theme of the new images is a love for Temple.
"I care for Temple and I identify with Temple students," said Labolito, a member of the Temple University Photography team for 17 years. "These are bright kids doing great stuff. They're young, they're energetic, they're beautiful. We're lucky to have them as a palette."