Posted
September 27, 2013
Social media assists in new licensing agreement for a Temple technology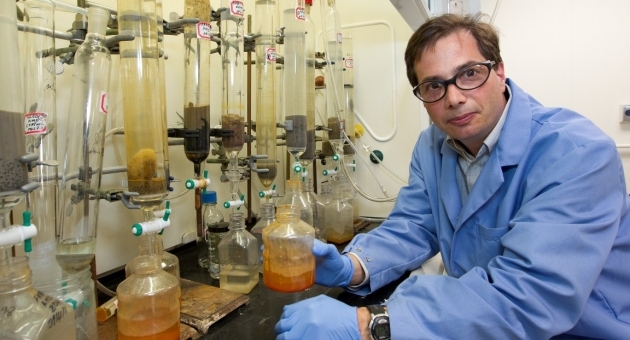 The use of the social media platform LinkedIn has led to the licensing of a Temple-created technology for the cleaning of water used in hydro-fracking for natural gas extraction.
Hydro Enviro Clean LLC, a Texas-based startup company, licensed the technology developed by Temple chemistry professor Daniel Strongin less than two years after its chief executive officer read a story posted on LinkedIn by Temple's Office of the Senior Vice Provost for Research.
"I'm not just a LinkedIn member, but I'm also heavily involved with LinkedIn's fracking industry groups, so I see all the news reports that have any relation with fracking," said Hydro Enviro Clean CEO Bert Quintanilla, who was intrigued by a Temple story on using nanotechnology to clean fracking wastewater posted on LinkedIn in November 2011.
The story resulted from a 20 minute talk that Strongin delivered during a Temple-sponsored symposium on hydro-fracking in the Marcellus Shale. The symposium's organizer had invited Strongin to discuss a nanotechnology he had developed to mitigate the problems of acid mine drainage.
"When I was asked to speak at the symposium, there was nothing in my mind that said that there was a connection between our acid mine drainage technology and fracking," said Strongin. "But then I looked into it and discovered there was a direct connection."
A panel commissioned by Pennsylvania's governor recommended using water from abandoned mining areas for hydro-fracking in the Marcellus Shale to preserve the state's fresh water resources.
"It was my belief that our nanotechnology could be used to stop acid mine drainage in such a way that the waters emanating from these abandoned mining areas — which are often close to the shale drilling sites — would be more usable in the hydro-fracking process," Strongin said.
Temple's Office of University Communications covered the symposium, writing a story on Strongin's new fracking application for his AMD technology, which was then posted on the university's news web site.
"We knew about the AMD technology, but learned about the fracking application through that article written by the University Communications staff," said Stephen G. Nappi, Temple's director of technology development and commercialization.
Realizing the new application's commercial potential, Nappi said Temple moved quickly to advance the technology through a startup company. They decided to try a new approach for attracting an entrepreneur to lead the new company by posting the article on LinkedIn.
"When forming a startup company, you have to find an entrepreneur who can lead the company, structure it, build a business plan and raise money to advance the technology," said Nappi.
After reading the LinkedIn post, Quintanilla was intrigued enough to contact the university to obtain more information. After discussions with Strongin, he executed an initial agreement with Temple.
Doing his due diligence by beta testing the nanotechnology on wastewater samples supplied by fracking companies, Quintanilla achieved milestones set forth in the initial agreement and has recently executed a full agreement under which Hydro Enviro Clean is now a Temple startup company with the university holding an equity position.
Quintanilla is focusing the company's efforts on Texas, where they are preparing for drilling and fracking in the Eagle-Ford Shale, which was discovered in 2008 and — unlike many other shale formations — contains both oil and natural gas resources. He is targeting a niche market by using the technology to supplement existing wastewater recycling processes.
Hydro Enviro Clean is using the nanotechnology to create a layer of hydrocarbons on top of the fracking wastewater, which can be skimmed before the water is treated. The hydrocarbons that are not skimmed off in the current process are clogging the filters of the various water recycling systems currently being employed in Texas.
"So now, we are not just a company trying to be at the table to recycle the wastewater, we are a company that can augment all the other wastewater treatment companies by assisting their processes," said Quintanilla.
In addition to treating fracking wastewater, the technology has been successful in treating oil with a high iron content, said Quintanilla.
"If we had not gotten Bert's attention through social media, we might not be where we are today in terms of having a startup company," said Nappi. "This whole business opportunity was created through that article by University Communications and posting it on LinkedIn."