Maestro Luis Biava: teaching and conducting Boyer students for 32 years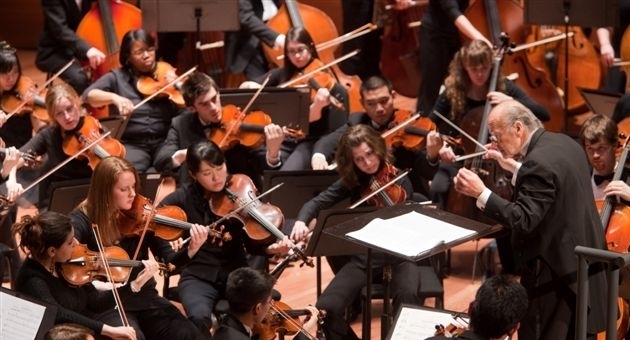 Courtesy of Boyer College of Music and Dance
Luis Biava walks down the hallway on the second floor of Presser Hall with sheet music tucked under his arm, stopping to greet students, security guards and fellow faculty members along the way.  He's on his way to his first three-hour Orchestra rehearsal of the day.
The clock on the wall reads 12:45 and almost everyone is already situated in the room crowded with students tuning their instruments in preparation for their class with Maestro Luis Biava.
By 12:59, Maestro Biava taps his conducting stick on the podium, signaling the class that it is time to start.
Biava has been a prominent figure in classical music for decades and has influenced students and professional musicians worldwide. For 32 years, Biava has led students at Temple's Boyer College of Music and Dance towards careers in the arts. This year, he will retire from his position as professor of music and artistic director and conductor of the Temple University Symphony Orchestra (TUSO).
"It's been a pleasure to watch the students and the Boyer College grow and change," said Biava. "The students have changed; the faculty has improved. I have had a chance to really watch the department evolve."  
Biava was born into a musical family. His mother played piano and his father played clarinet in Teatro dell'Opera di Roma, before moving the family to South America where he played musical scores for silent movies.
At 11-years-old Biava picked up the violin for the first time, the instrument quickly became his passion and he practiced for hours daily, working to master his skills.
"There are a lot of subtle skills that go into being a musician," he said. "Music is not just about notes, it's about creating something beautiful from the inside out, and it's about quality and technique. You can't make yourself a good musician without a lot of good practice."
Biava's practice and precision paid off when he landed his first job in the States with the National Symphony in Washington, D.C. in 1963. He left D.C. in 1968 to become a member of the violin section of The Philadelphia Orchestra, where he was appointed principal second violin in 1984. He was later appointed assistant conductor and in 1994 conductor-in-residence, a position he held until his retirement from the orchestra in 2004.
His steps into conducting had nothing to do with ego or an ambition to lead. "Being a musician was my first love," said Biava.
During a concert in South America, one of the conductors got ill and Biava was asked to step in and take his place.
"Music was the only thing that I was focused on at the time, after that night one of the directors said 'Biava, you have a talent for being a conductor,' and that was the beginning," he said. "From there the evolution of my career has been a combination of luck and skill."
In addition to serving as director and conductor of the 110-member TUSO, Biava also served as director and conductor of Temple University Youth Chamber Orchestra and as senior artistic administrator and conductor of the Pacific Music Festival in Sapporo, Japan.
Under Biava's direction Temple University Symphony Orchestra performed in New York for the fourth time in Alice Tully Hall. In 2010, also in Tully Hall, the TUSO performed two commissioned works by American composers; "fourth stream...La Banda," by Bill Cunliffe and "Ansel Adams: America" by Chris and Dave Brubeck. Both have been nominated for Grammy Awards in the "Best Instrumental Composition" category in 2011 and 2013 respectively. A new work commissioned from Cunliffe and performed by TUSO, "Overture, Waltz and Rondo," was also nominated for a 2013 Grammy Award in the same category. TUSO's recordings are released by BCM&D Records and can be found on iTunes, Amazon and CD Baby.
Biava admits that his teaching style is demanding but, only because he knows how difficult it can be to make your way in the music industry, especially when you have aspirations to join a national orchestra.
"I treat my students like professionals," he said. "I expect the best of them; we start on time and stay to the end. I try to prepare them for what it's really going to be like when they step into their careers, the only difference is that the students don't have a union."