Temple hosts free concert with Yannick Nézet-Séguin and the Philadelphia Orchestra at TPAC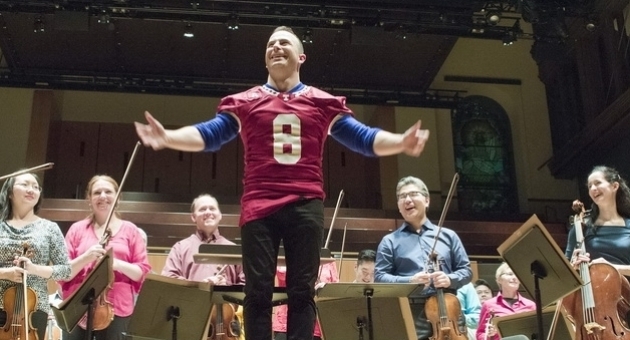 Yannick Nézet-Séguin, music director of the Philadelphia Orchestra, conducted his first free neighborhood concert in the Temple Performing Arts Center last week.

Seating reservations for the concert were snapped up hours after the concert was announced in October, demonstrating both Yannick's and the Philadelphia Orchestra's popularity in the community.

Shahida Afroz, and her son Prianon, were among the more than 100 community members who registered early for the event. Though he prefers the percussion section, Prianon, a student at Abram Stockton (A.S.) Jenks Elementary School, said he was excited to see the violinist perform with the orchestra for the first time.

"Prianon has been playing violin since kindergarten," Afroz said. "I wanted him to see what a full orchestra looks like. I attend orchestra performances often, but I don't always have a chance to take my children."

As the crowd entered the building and made their way toward the auditorium, Prianon headed to the balcony where he and his mother had a bird's-eye view of the performance.

Having Yannick's first community concert in the Temple Performing Arts Center was fitting, said Allison Vulgamore, president and CEO of the Philadelphia Orchestra. There are several connections between Temple and the orchestra. In addition to WRTI's broadcasts of The Philadelphia Orchestra in Concert, 30 members of the orchestra currently serve as faculty in the Boyer College of Music and Dance.

"This marks Yannick's first neighborhood concert with the orchestra, and he is eager to increase his and the orchestra's activities in Philadelphia's neighborhoods," Vulgamore said. "This concert is just one of the ways we will expand the orchestra's footprint in the community."

Yannick lead the performance in a cherry and white Owls football jersey through several selections, including Britten'sYoung Person's Guide to the Orchestra, Tchaikovsky's Romeo and Juliet, Bernstein's Overture to Candide and Ravel's Bolero.

The concert was hosted by the Temple University Office of Government, Community and Public Affairs and presented by Wells Fargo, a supporter of the orchestra's neighborhood concerts since 2003.

The orchestra's community partnership and education initiatives include eZseatU, a program that allows full-time college students opportunities to attend an unlimited number of Philadelphia Orchestra concerts for a $25 annual membership fee. For more information, visit the Philadelphia Orchestra website.