Temple creates Fly in 4 initiative to help students control debt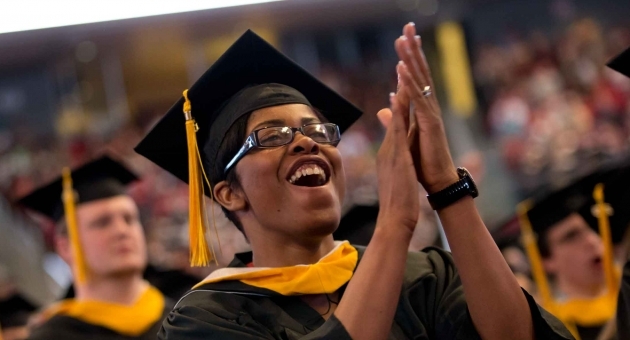 Temple President Neil D. Theobald has announced a partnership that will limit the number of hours per week that students need to work for pay and will guarantee that students can complete their degrees on time, or the university will pay for any remaining courses. The new plan—named Fly in 4—is a part of Temple's commitment to reduce student debt.
The Fly in 4 initiative will provide undergraduates with the resources they need to graduate in four years, including advising that keeps them on track and classes that are offered when students need them.
To address a problem that has dogged Temple students for decades—an over-reliance on earnings from off-campus employment to fund their studies—Temple also has created Fly in 4 grants for those students who are most likely to struggle with college costs. In each incoming class, 500 students will receive annual grants of $4,000 so they can dedicate more time to their studies and less to off-campus employment.
"For nearly 50 years, researchers have shown that college students employed more than 15 hours per week during the school year earn much lower grades than do those working fewer hours for pay," Theobald said. "In addition, time-to-graduation has become the primary determinant of student debt."
Theobald made reducing student expenses the first of his six commitments to the Temple community in his October inaugural address. Fly in 4 is a part of Temple's comprehensive effort to reduce student costs at a time when higher education expenses are skyrocketing across the country.
The president noted that taking longer than four years to complete a degree can add thousands of dollars in debt. It also delays a student's entry into the higher-paying, college-educated segment of the workforce.
"Temple students must not keep their futures waiting," Theobald said. "Under this initiative, our students will be able to limit their debt and advance more quickly into careers that will allow them to pay off the debt they do acquire."
Under Fly in 4, the university commits to pay for any remaining classes if a student fulfills all of the responsibilities of the plan but still cannot graduate on time.
In addition, the Fly in 4 grants will empower students to focus more on their studies.
"Forty years ago, a student could work 10 hours each week at a minimum-wage job and earn enough to pay tuition. Today, despite our best efforts to keep college affordable, a student would need to work 25 hours each week at a minimum-wage job to pay for tuition," Theobald said.
As a result, too many students spend so much of their time at work that it takes them longer than four years to graduate, he explained. A longer time-to-graduation adds to the debt these students accrue for living expenses.
"What we've found is that students from low- and middle-income backgrounds tend to take longer to complete their degrees, in part because they spend a lot of time working," Theobald said.
"This initiative will provide $4,000 every year for four years to 500 students, which not only honors Temple's legacy of giving opportunities to middle- and lower-income students, but also distinguishes Fly in 4 from other programs in higher education."
Under the initiative, students will be required to consult with an academic advisor once each semester, register during early registration and advance annually in class standing.
"Fly in 4 is a partnership between our students and the university," said Provost Hai-Lung Dai. "If students stay on track, maintain passing grades and fulfill their obligations, Temple's schools and colleges will do their part to ensure those students graduate on time."
In recent years, Temple has invested heavily in advising, hiring 60 new full-time advisors since 2006, including 10 this academic year. Faculty members also assist students with their curricula and career planning, and Temple has created four-year graduation maps for every major.
"In the effort to rein in student debt, four-year graduation has become a central issue," Theobald said. "Fly in 4 gives students who commit to graduating on time the tools and incentives to do so and reinforces Temple's position as a national leader in reducing student debt."
—Ashwin P. Verghese, SMC '08