Temple's affordability efforts praised by state leaders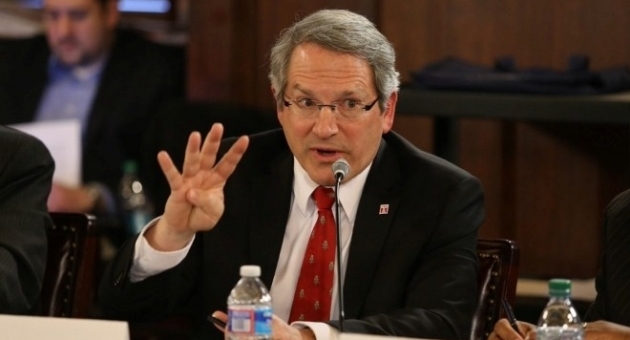 Temple's Fly in 4 initiative and 20/20 scholarships received praise from state-elected officials Tuesday, when President Neil D. Theobald made the university's annual appeal for state support. He appeared before the Senate Appropriations Committee in the morning and the House Appropriations Committee in the afternoon.
"I am so impressed by your Fly in 4 initiative—very, very impressive," State Sen. Patricia Vance (R - Cumberland and York counties) remarked to President Theobald during his appearance before the Senate Appropriations Committee.
Theobald told senators the goal was to help students reduce their college debts by ensuring they can get the classes they need and graduate in four years without having to work excessive hours at outside jobs. "We must stay focused on helping students get out in four years," he said.
State Sen. Jake Corman, chair of the Senate Appropriations Committee, highlighted the growing commitment Temple has made to the city of Philadelphia. Corman cited programs such as the 20/20 scholarships, which help residents from the neighborhoods around the university pay for a Temple education.
"Thirty years ago, Temple was a commuter school," Corman said. "Today, you've become a residential school that is fully engaged with the community."
The president also was asked about the impact of reduced state support. Theobald said Temple was in a highly competitive environment for great faculty, and lower commonwealth support means it is more difficult to attract and retain the best professors.
Decreased state support also prompts tough decisions, like Temple's recent determination to reduce its varsity sports teams from 24 to 19. The costs of running the large program—coupled with Title IX issues, facilities concerns and a desire for better student welfare—prompted the cuts.
"Having to meet with those 70 students and tell them that you were cutting their sports was very difficult. It was one of the most gut-wrenching decisions of my life," Theobald said. "But that's the kind of decisions you have to make."
The afternoon hearing with the House Appropriations Committee went similarly. Rep. Cherelle Parker (D-Philadelphia County) commended Theobald for his efforts to keep Temple accessible and affordable.
"What you are doing with Fly in 4 will help to ensure that people will have access to a quality higher education, whether or not they were born into a wealthy family," Parker said.
Theobald was joined at the hearings by the leaders of Pennsylvania's three other state-related schools: University of Pittsburgh Chancellor Mark Nordberg, Pennsylvania State University President Rodney Erickson and Lincoln University Robert Jennings.
Once again, Pennsylvania Gov. Tom Corbett proposed no increase in the commonwealth's appropriation for Temple and the other state-related schools during his budget address earlier this month. The university would receive an appropriation of $139.9 million under the governor's proposal.
If approved by the General Assembly, this would be the third year in a row that Temple would have level funding from the commonwealth, after experiencing an 18 percent drop in state support in 2011.