Temple follows "Tamenend's Track" at the 2014 Philadelphia Flower Show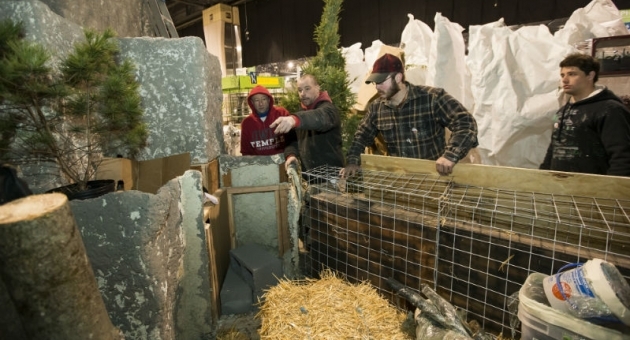 A walk through Temple's Philadelphia Flower Show exhibit is a walk through time.
For this year's event, the Pennsylvania Horticultural Society asked exhibitors to explore how landscapes, floral arrangements and gardens influenced old-master and contemporary art.
"We wanted to focus on the inspirational aspect: How does an artist become inspired by the landscape?" said Rob Kuper, associate professor of landscape architecture at Temple. "I think you have to consider the context in which that inspiration occurred." Kuper coordinated the  exhibit with Adjunct Assistant Professor of Landscape Architecture Michael LoFurno and Horticulture Supervisor Anne Brennan.
"Tamanend's Track: The Path to a Portrayal of the Past" was inspired by a variety of artists and ideas, including the "wild" frontier depicted by the Hudson River School of painters in the early and mid-1800s. (See sidebar.) It also is influenced greatly by the ecological restoration work of Temple's master of landscape architecture students and Tamanend, the Lenni-Lenape tribe's spokesperson who established peaceful relations with William Penn and his fellow settlers in what would become Pennsylvania.
"We asked our students to discover what it was about the landscape at the time of Tamanend that inspired people—what it is about that landscape that we have lost," Kuper explained.
Seventeen landscape architecture students and four horticulture students spent months developing the exhibit. In the Ambler Campus Greenhouse, horticulture staff have been working since August to help select the plant palette and ensure the plants and trees were ready for the show.
"This year we have more than 1,400 plants from 94 different plant species currently in production," said Staff Horticulturist Kathryn Reber.
Temple's Ambler Campus is one of only a handful of exhibitors that forces its own plants for their exhibits. "Each year we try to hone our forcing techniques," she said. "We keep meticulous records of the conditions and progress of each of our crops so we can try to improve upon our forcing schedules from year to year."
Presented by the Pennsylvania Horticultural Society, the 2014 Philadelphia Flower Show—with its "ARTiculture" theme—runs from Saturday, March 1, through Sunday, March 9, at the Pennsylvania Convention Center at 12th and Arch streets.