Michael Gebhardt appointed interim university counsel and secretary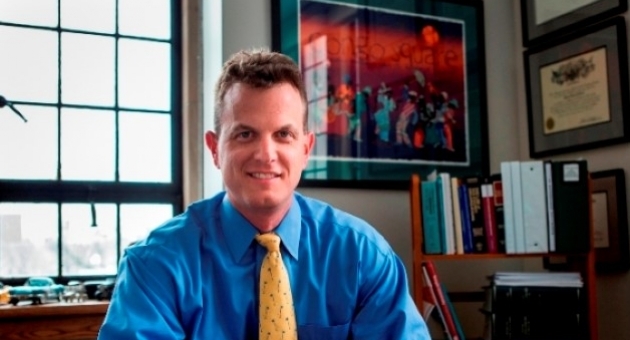 Temple President Neil D. Theobald has announced the appointment of Michael B. Gebhardt as interim university counsel and secretary, effective immediately.
Gebhardt, who previously served as deputy university counsel (2011–2013) and associate university counsel (2006-2011), is responsible for overseeing all the legal affairs of Temple and its subsidiaries and for providing support to the university's Board of Trustees. As university counsel, Gebhardt provides advice on a wide variety of matters—including corporate governance, policy development, employment and labor issues, commercial transactions, constitutional law, and interpretation of statutes and regulations.
Gebhardt assumes all the responsibilities of Temple's late Senior Vice President, University Counsel and Secretary George E. Moore, who passed away March 2.
"What Michael brings to the Temple community and our leadership team is experience, stability and continuity during an exciting time of growth and opportunity for the university," President Theobald said. "Board of Trustees Chair Patrick O'Connor and I value Michael's professionalism and his broad-based understanding of the entire university enterprise."
Prior to joining the Office of the University Counsel in 2006, Gebhardt served as associate general counsel at Tulane University in New Orleans (2003-2006), where he was responsible for contracts, technology transfer, sponsored research, and drafting and implementing policy. He also has served as vice president and associate counsel for investment bank Robertson Stephens Inc., in San Francisco (2000-2002); associate in the California-based law firm of Gray Cary Ware & Freidenrich LLP (1997-2000); and associate editor of the legal newspaper The Recorder in California (1995-1997). Gebhardt earned his law degree from Tulane University Law School in 1995 after graduating from the University of California, Los Angeles, with a bachelor's degree in psychology in 1992.
"No one will ever truly replace George Moore," Gebhardt said. "But one of George's legacies is that his staff was well prepared to step in and serve the university he loved. I'm honored to have the opportunity to use what I learned from him for the good of Temple University."