Broadway's Melba Moore offers advice to Temple's aspiring actors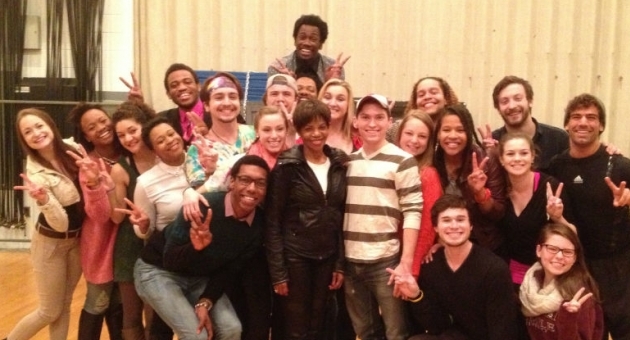 When musical theater major Philip Anthony Wilson auditioned for Temple Theaters' production of Hair, he had no idea the opportunity would bring him face-to-face with his childhood idol, Broadway actor Melba Moore.
Wilson was shocked when student-actors were asked to perform musical selections from the play for Moore—a member of the original Broadway cast—during her visit to Temple on Friday, March 14.
"I was unbelievably nervous," Wilson said after his solo performance. "My mom would always play Melba Moore's music for me when I was a child. Seeing her in Purlie was unbelievable. It's what brought me to theater."
The award-winning recording artist and actor opened the discussion with an impromptu performance of the hit song "Aquarius" and thanked her niece Gabby Huggins, a junior theater major at Temple, for inviting her to campus.
Cast members from Temple's production of Hair sat in the front rows of the crowded Tomlinson Theater auditorium as Moore shared stories about breaking into show business and gave advice to aspiring actors.
Moore explained to students the value of attending Temple to study their craft. "You all are doing the right thing by getting the grounding and formal training," she said. "There are techniques that you need to learn in this business." The Tony award-winner also stressed how important it is for performers to have vocal coaching and maintain healthful diets and fitness routines. 
Following the question-and-answer session, students and faculty joined Moore in a rehearsal room for an informal discussion and impromptu performances. She also gave the student actors a standing ovation and pulled the cast aside for private notes.
"I enjoy this type of engagement, when people get a chance to share and say what's important to them," Moore said of the one-on-one time she had with the performers. "These students are wonderful."