PECO helps create better futures for Temple students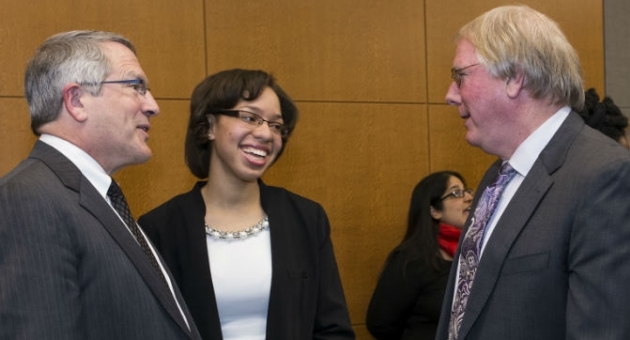 When Jaslyn Johnson began her first year in the College of Science and Technology at Temple, learning how to keep up with her demanding schedule was a bit of a challenge.

Over the course of her first two years, she improved her study habits, kept her grade point average high, and earned an opportunity to study neurology with professionals at Temple University Hospital through the university's Undergraduate Research Program—while working two jobs to help pay for school expenses.

Things were going as planned until a family tragedy threatened to put her and her two sisters' college careers on hold.

"My father, a former registered nurse at Temple University Hospital, suffered a brain injury after a car accident in the fall," Johnson said. "His injuries left him unable to continue working, which resulted in the loss of his tuition-remission benefit. Because of the PECO scholarship, I am able to pay for my final year of college and graduate on time."

Her older sister, Jalene, SMC '14, graduated from Temple with a degree in broadcast journalism in January. Johnson's younger sister, Javon, is a 20/20 scholarship student in the College of Education. (The 20/20 scholarships are given to high-performing students with financial need in neighborhoods near Temple.) Johnson's younger brother, Joshua, attends Temple's Math Science Upward Bound Program, which enhances the academic skills of talented high school students interested in majoring in math or science in college.
"As you can see, my whole family is Temple Made," Johnson told parents, scholars and supporters during a reception held to honor the recipients on March 24 at PECO's offices in Center City.
The PECO Scholars Program was established during the 2010–2011 academic year and provides critical support for students who demonstrate academic achievement and financial need. It is open to matriculating, full-time junior and senior undergraduate students from the five-county area who are studying science, technology, engineering and mathematics (STEM).
Since its inception, the PECO Scholars Program has provided $100,000 to 49 Temple students.

The program helps Temple students prepare for the real world without the burden of debt, President Neil D. Theobald said during the scholarship ceremony.

"PECO is a leader in STEM education and an exceptional corporate citizen," Theobald said. "Thanks to the company's generosity, these students will create a better future for Philadelphia."