Zahra Safa: Invested in finance
Degree: BA, accounting with a certificate in Spanish, Fox School of Business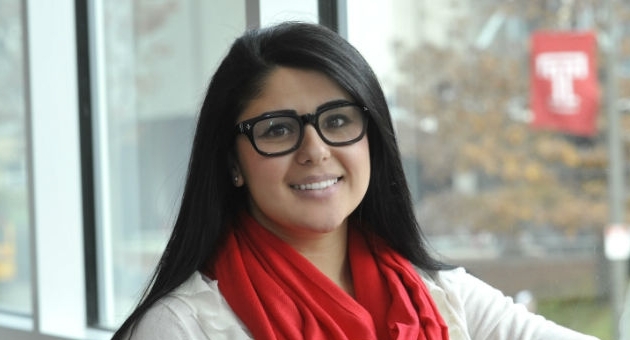 Temple's commitment to controlling student debt and increasing financial literacy extends far beyond Main Campus. Thanks to Zahra M. Safa—a student of accounting in the Fox School of Business—lessons in financial literacy have extended to Central America.
Safa, who also is graduating with a certificate in Spanish, participated in a service trip to Belize through her summer 2013 internship with the internationally renowned financial services firm PricewaterhouseCoopers. While there, she taught foundational lessons about managing money to 20 students between the ages of 8 and 10.
"I went to preschool and kindergarten in Lebanon," Safa said, "and our schools were like some of those in Belize, where students don't have the opportunities we do in the U.S. It reminded me to be grateful and thankful for everything I have here. I actually gave one of my students my flip-flops, because hers had broken and her family couldn't afford to buy her a new pair."
One of six children, Safa is the first in her family to attend college. For the past two years, she has served as president of the Fox School of Business College Council and is vice president of Future Business Leaders of America-Phi Beta Lambda.
In addition, she is the social-media intern in the Fox School's Center for Student Professional Development, whose staff members Safa credits with providing important guidance for her career decisions.
Safa also has interned as a fleet coordinator for UGI's AmeriGas and as a group insurance intern at Prudential Financial. And, she has accepted a full-time job as a tax associate with PricewaterhouseCoopers, where she will start in October.
"I feel really accomplished, being the first to go to college in my family and being first-generation Lebanese American," Safa said. "Having that diploma, I'll probably cry at graduation, because it's been a tremendous struggle that I'm extremely proud of."
- Brandon Lausch, SMC '06