Temple's Department of Public Health and CORE run to promote walking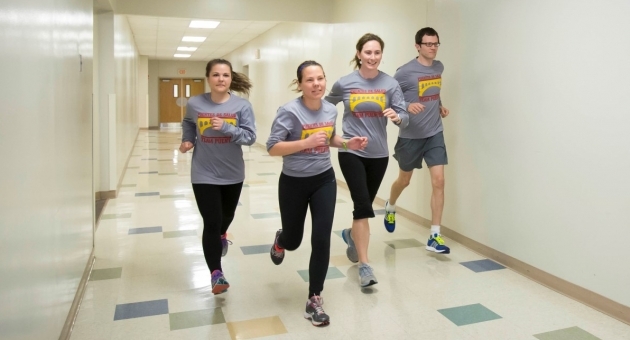 To promote wellness in the Latino community, approximately 20 faculty members and students in Temple's Department of Public Health and the Center for Obesity Research and Education (CORE) will run in the New Jersey Marathon, April 26–27, and in other races.
Last fall, Freda Patterson, assistant professor of public health in the College of Health Professions and Social Work, and Jennifer Orlet Fisher, interim director of CORE, decided to participate in the marathon to raise funds for Puentes de Salud, a South Philadelphia-based community health center co-founded in 2003 by CORE Assistant Professor Matthew O'Brien, also medical director of Puentes de Salud.
"Freddie and I learned that Puentes was interested in establishing a community-based walking program," Fisher said. "As public-health and obesity-prevention researchers, we are always excited to help people become more active to obtain better health."
Obesity and type 2 diabetes rates are higher in the Latino community than in the national population, which is why establishing a walking program at Puentes de Salud is not only important to the researchers involved, but also to Fisher personally.
A type 1 diabetic, Fisher realized at a doctor's visit last summer that her diabetes was not well controlled and that she was overweight. For her children and her health, she decided to do something, so she changed her diet and started walking. "I thought, 'If not now, when?'" she said.
"When I contemplated running this marathon, I realized there will likely be a day, sometime in my future, when complications from diabetes may prevent me from walking easily, let alone run a marathon," Fisher said.
For someone with diabetes who has not even jogged since college, training for a marathon has been a daunting task—especially in Philadelphia's recent winter weather.
"Since October, I have walked and run more than 500 miles in the cold—often in rain, sleet or snow," she said. "I have been up at 5:30 a.m. on countless mornings to run on the treadmill or lift weights before the kids ever make it to breakfast table; run through blood-glucose lows, highs and everything in between; run through the flu season; and rehabbed my way through a couple of injuries."
Those taking part—faculty and staff members, and graduate and undergraduate students from CORE and Public Health, and the Eta Sigma Gamma public-health honor society—have dubbed themselves "Team Puentes." The team will run either 5 kilometers, a half marathon, a half-marathon relay or the marathon itself. With the exception of a handful of participants, most are not runners, and this is their first experience at distance running.
Through the online fundraising site Crowdrise, the group has raised more than $5,000 to date.
"As a diabetic, I have been changed by this experience," Fisher said. "Feeling physically well is not something that I take for granted, so it has been amazing to get to a point in training where I've thought 'I can do this.' I hope the Puentes walking program will bring better health to many in the Latino community."
- Preston M. Moretz