Edie Windsor, CLA '50, returns to Temple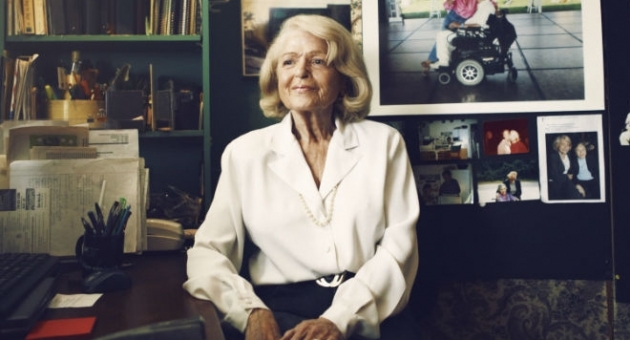 Fêted internationally for filing the Supreme Court case that dismantled the Defense of Marriage Act (DOMA), Edie Windsor, CLA '50, is coming back to Philadelphia for a historic celebration during Alumni Weekend 2014.
She will be receiving an Alumni Fellow Award from the Temple University Alumni Association before a screening of Edie & Thea: A Very Long Engagement and a question-and-answer session hosted by noted Philadelphia activist Angela Giampolo, LAW '08. Philadelphia Mayor Michael Nutter also will recognize Windsor for her contributions to LGBTQ causes. 
 "I am thrilled to be coming home," Windsor said. "It's an honor to return to Temple for this award, and I am looking forward to being back on campus."
Her 30 years working as a leader in the LGBTQ community has netted Windsor more accolades than she can count, including the ACLU's Roger N. Baldwin Medal of Liberty, the American Constitution Society for Law and Policy Award for Keeping Faith, and the New York University President's Medal. In May, she will receive an honorary doctor of humane letters degree from Johns Hopkins University.
Windsor's community activism was spurred by her relationship with Thea Spyer, to whom she was engaged for 42 years before they were able to be married in Toronto in 2007. Their romance is chronicled in the documentary Edie & Thea: A Very Long Engagement, which will be screened at the event Saturday.
After Spyer's death in 2009, the estate tax—which would not have been imposed on a heterosexual couple—cost Windsor more than $600,000. She filed a federal suit in New York, asserting that DOMA treated her marriage differently than heterosexual marriages. The case went all the way to the Supreme Court, which declared DOMA unconstitutional under the Due Process Clause. Her role as the plaintiff brought her worldwide recognition—including a nomination for the 2013 Time magazine "Person of the Year."
In addition to the afternoon celebration, Temple's College of Liberal Arts has established an award fund in Windsor's honor. The Edith Windsor Fund will support LGBT studies in the Women's Studies program. 
"We are delighted to be able to honor Edie this way," said College of Liberal Arts Dean Teresa Soufas. "Her fight has helped to change our world. We are very proud to call Edie our alumna."
The event, to be held April 26 as a part of Alumni Weekend, will be hosted by the College of Liberal Arts and the Leonard Mellman Visiting Scholars Program. It is sponsored by alumni and student groups throughout the university.
"Receiving this award from my alma mater in my hometown means quite a lot to me," Windsor said.
—Shannon Rooney, SMC '13