Kal, EDU '57, and Lucille Rudman make a second $1 million gift to Temple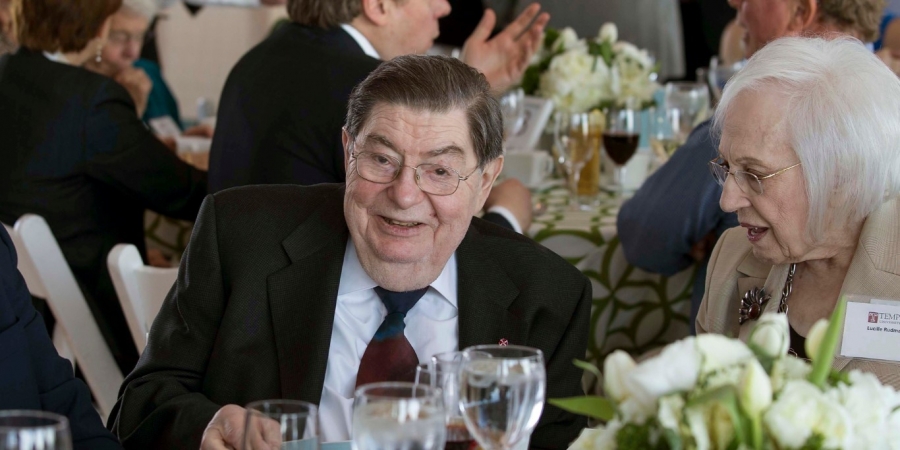 Storied philanthropists Kal, EDU '57, and Lucille Rudman have made a second transformative gift in support of TUTV-Temple University Television. The Rudmans announced their gift during the Temple University Alumni Association Impact Awards Celebration held Sunday, April 27, where Rudman was honored with the Alumni Distinguished Service Award.
The $1 million donation to TUTV and the Kal and Lucille Rudman Media Production Center comes only four years after a foundational $1.2 million gift that helped the station launch Nov. 11, 2010. The Rudmans' $1 million investment in TUTV will support its general operations and special projects as they arise.
"Since joining Temple in September, I've been overwhelmed by the generosity and vision of the Rudmans," said David Boardman, dean of the School of Media and Communication. "Their gifts are the foundation from which we have built TUTV, an asset that gives our students the hands-on experience to be real-world ready when they graduate."
Rudman, who earned his master of education degree from Temple in 1957, said he and his wife wanted to continue to contribute to the success of students at an institution that means so much to them.
"I've been fortunate enough to have had a major nationwide and worldwide television career," Rudman said. "Therefore, I'm grateful that I can give back to a constant stream of communications students at my graduate school. I feel an insatiable need to provide hands-on training opportunities to accommodate those students in reaching their goals in the video world."
Since 2010, students have experienced many memorable moments at TUTV. From the studios in the media production center and on location around the globe, TUTV students have produced live newscasts, interviewed the crew of the International Space Station, reported live from London during the 2012 Summer Olympics and much more.
"We are honored that Kal and Lucille Rudman continue to invest in Temple's students," said Temple President Neil D. Theobald. "Their ongoing generosity will make a difference in the lives of Temple students, and we are grateful for their support."
Under the leadership of Paul Gluck, TUTV general manager and associate professor of media studies and production, TUTV's presence on campus and in the community has grown stronger over the past four years.
"We've seen students become more and more involved in the creation and distribution of content," he said. "We've seen awareness of the station grow among students, faculty and members of the community surrounding Temple."
Born and raised only blocks from Temple's Main Campus, Rudman is a music and show business legend. For more than 50 years, he has worked in music and radio and on his pioneering trade publication, Friday Morning Quarterback. In honor of his success, he was awarded a Lew Klein Alumni in the Media Award in 2011.
—Jeff Cronin