Ten faculty members honored at Faculty Awards Luncheon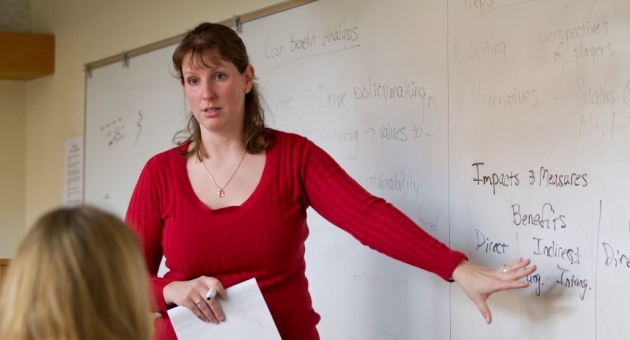 Today, 10 exemplary faculty members will be celebrated for their achievements in teaching, research and creativity at Temple University's Faculty Awards Luncheon on Main Campus.
The recipient of each award is chosen by an awards committee, which reviews nomination letters from faculty members, alumni and students. Student course evaluations and seminar presentations also are contributing factors in the selection process.
This year's Great Teacher Award will be presented to Jennifer Ibrahim, associate professor of public health in the College of Health Professions and Social Work. For her innovative research in the areas of tobacco control and public-health law while teaching undergraduate and graduate courses, Ibrahim will receive a stipend and a commemorative sculpture. All recipients of the Great Teacher Award also have their names engraved on the wall in Founder's Garden.
Three professors have been named recipients of Faculty Research and Creative Achievements awards. Mohammad Kiani, professor of mechanical engineering in the College of Engineering, will be awarded the Temple University Faculty Research Award. Jeffrey Solow, professor of cello in the Boyer College of Music and Dance, will receive the Temple University Faculty Award for Creative Achievement. The Paul W. Eberman Faculty Research Award will be awarded to Barbara Wasik, a professor of psychological, organizational and leadership studies in the College of Education. For outstanding contributions to their respective fields, those recipients will receive a stipend and a certificate.
The Christian R. and Mary F. Lindback Foundation Awards for Distinguished Teaching honor faculty whose work in teaching and research has benefited the lives of Temple students. Six faculty members will receive this award: Charles Abramovic, BYR '90, professor in the Boyer College of Music and Dance and chair of the Department of Keyboard Studies; Jason Chein, CLA '97, associate professor of psychology in the College of Liberal Arts; Rolf Lakaemper, associate professor of computer and information sciences in the College of Science and Technology; Kristina Najera, assistant professor of teaching and learning in the College of Education; Lalitha Naveen, associate professor of finance in the Fox School of Business; and Denise Salerno, professor of clinical pediatrics in the Temple University School of Medicine. Each winner will receive a certificate and a monetary award.
In the coming weeks, each winner will be profiled individually in Temple Today.
—Siobhan Redding