Architecture students design installation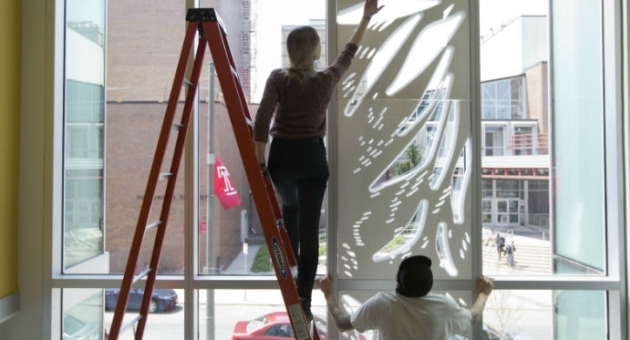 Architecture students in the Tyler School of Art have erected a new installation to catch the eyes of those passing by the Architecture Building on Temple's Main Campus.
For the design-studio project titled "Patterning Porosity," fourth-year architecture students designed the group installation that covers the window bays of the front of that new building, located next to the Tyler School of Art. 
 "Details such as thickness, porosity, location and proximal connection are individually introduced to instigate the evolution of the pattern from graphic to three-dimensional construct," said Bob Trempe, assistant professor of architecture.
The designers used foam insulation for building material, 3-D computer modeling applications for virtual shaping, and a 3-axis computer numerically controlled mill for construction.
"Students learned not only the process of translation from concept to production, but also the rules of physical computational manufacturing, including the characteristics of the tools they will employ in their professional lives," Trempe added.
"Patterning Porosity" will be on display until Friday, May 16.