Vaughn Spurrier: Balancing athletics and academics
Degree: BS, biophysics, College of Science and Technology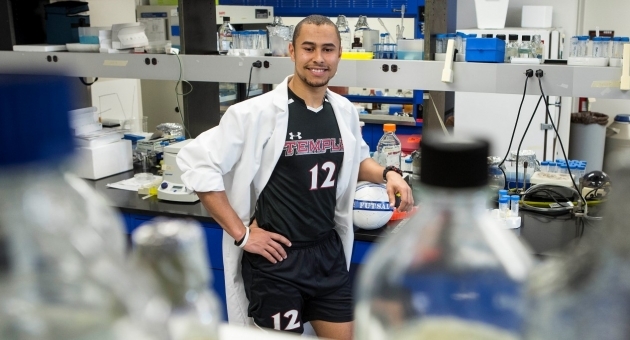 When soccer midfielder Vaughn Spurrier arrived at Temple in 2010, he already knew how to manage a soccer game. But what he learned over the next four years was how to balance the demands of athletics, academics and research successfully.
"Temple has taught me is how to manage my time," said Spurrier, a Cleveland native who will receive his bachelor's degree in biophysics. "My coach thinks all I do is play soccer, my professors think all I have is their class and some researchers think all I do is work in the lab. I had to learn to juggle all those things."
Spurrier, the Owls' "Most Valuable Offensive Player" this past season, learned how to juggle really well, excelling not only in soccer, but also in the classroom and the lab.
His performance on the pitch, combined with his classroom performance (3.50 GPA), earned him the 2013–2014 American Athletic Conference's Male  "Scholar-Athlete of the Year " award. That was no surprise, since he also was on The Philadelphia Inquirer Academic All-Area and Atlantic 10 All-Academic teams as a junior.
Additionally, Spurrier found time to do research. "I always wanted to be on the frontier of research," he said. "I was drawn to research because I like the experimentation, and I like being in a lab."
He participated in two summer research internships—one analyzing the amount of rubber in a dandelion species and another that involved understanding how retroviruses assemble.
"I am very grateful for both opportunities," Spurrier said. "In about 15 years, you'll buy your first set of dandelion rubber tires, and I'll have played a small part in making that possible."
He also helped fellow student-athletes, serving as a chemistry and physics tutor in Temple's Resnick Student Athlete Academic Support Center and was a leader in the university's chapter of Intervarsity Christian Athletes.
Spurrier—who described his dream job as a mixture of the work of Leonardo da Vinci and Sherlock Holmes—will begin graduate school in the fall at the University of Chicago. He credits Associate Professor of Biology Jacqueline Tanaka for working with him on selecting, applying and being accepted to the University of Pennsylvania, Washington University in St. Louis and Yale University.
"She has a very strong network of contacts and she's given me a lot of advice," Spurrier said. "I didn't know at what level of graduate schools to apply, but she worked with me and we made the list together."
- Preston M. Moretz