Pop-up shoe cam returns for Commencement 2014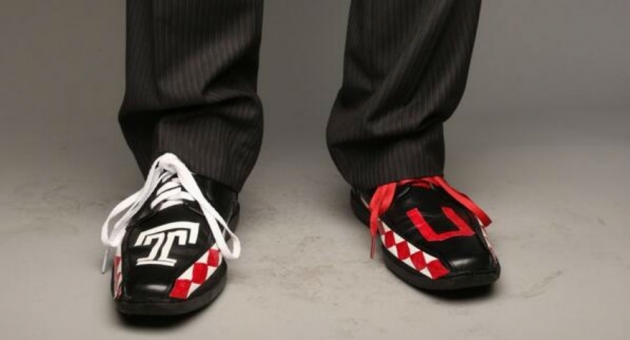 In 2013, Temple Photographer Betsy Manning, SMC '87, CLA '08, noticed that increasing numbers of students were wearing extreme footwear to set themselves apart in the sea of black gowns. She began documenting the styles appearing below the graduates' long hemlines and created the #TUgradshoes campaign.
The day of Temple's 2013 Commencement ceremony, Manning set up a miniature photography studio on the loading dock below the Liacouras Center. As students prepared to walk in for the ceremony, they stopped there to have their footwear photographed. Manning captured hundreds of images of all kinds of shoes, from blue suede loafers to black dress shoes decorated with "T" on one shoe and "U."
Given the success #TUgradshoes last year, Manning plans to set up the pop-up shoe cam again for the Class of 2014. As graduates assemble in the loading dock, they also may show off their eye-catching footwear.
After the photos are taken, Temple's social-media team will post them using the hashtag #TUgradshoes.