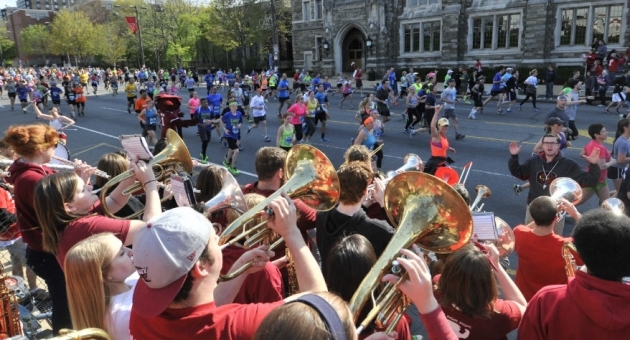 As 40,000 runners made their way down Philadelphia's main thoroughfare for the 2014 Independence Blue Cross Broad Street Run May 4, Owls gathered at Broad Street and Polett Walk on Temple's Main Campus to cheer on race participants. Approximately 150 attendees—including alumni, student-athletes and members of the Diamond Marching Band—came out to support the runners.
Sponsored by the Office of Alumni Relations, Temple's Official Broad Street Run Cheering Station provided volunteers with complimentary noisemakers, donuts, coffee, free parking and a great view of one of Philadelphia's most popular 10-mile races.
The Greater Philadelphia Chapter of the Temple University Alumni Association also offered Temple T-shirts also offered Temple T-shirts to alumni, students and staff who showed their race registration forms prior to the event.
Senior engineering technology major Williamson Vedder said wearing his Temple T-shirt for the race was one of the best decisions he made. "Consistently, every one or two minutes from the start of the race to the finish, some one would cheer, 'Go, Temple!'"