Wilfred Beaye: Harvard bound
Degree: BS, criminal justice, College of Liberal Arts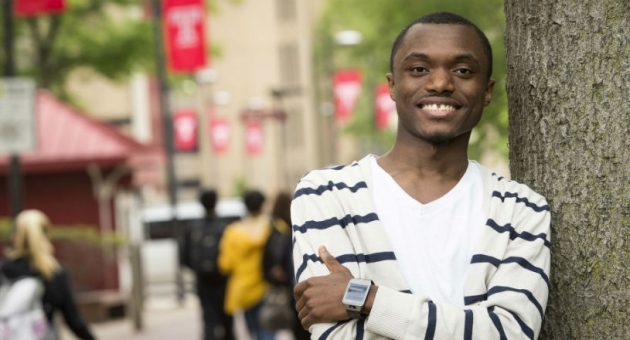 Wilfred Beaye was only at Temple for two years, but he certainly made the most of his time. A transfer student from Bucks County Community College, Beaye will attend Harvard Law School this fall.
Beaye, who is the first in his family to attend college, says he owes much to his mother, who left behind her life and family in Liberia to move to the U.S. after his father's death in the '90s.
"When I was younger, I really didn't appreciate [the sacrifices]," Beaye said. "I am really thankful that I can give her these kinds of moments and say, 'Good job, Mom!'"
In addition to his mother, Beaye says that two aunts continuously reminded him of his potential. His Aunt Summer even prophesied his admission to Harvard: She bought a Harvard sweatsuit on a visit to the school when Beaye was in 10th grade and told people her nephew would attend Harvard one day.
At Temple, Beaye credits Aunshul Rege, assistant professor of criminal justice, with much of his academic success. He worked with Rege as a Diamond Peer Teacher, a competitive program at Temple that allows upper level undergraduates to co-teach college-level courses. And it was Rege who guided him on an undergraduate research project that examined the complications of law enforcement in physical and cyberspace, and recommended him for an internship as a crime analyst with the Amtrak Police Department.
In addition, Beaye says that each appointment with his advisor, Pre-law Program Director and Associate Professor Paul Crowe, gave him the confidence that he could do anything in his career.
"He was pivotal throughout the entire law-school application process," said Beaye. "He continually encouraged me, even when I felt I was not the best applicant, reviewed my application components and answered all of my neurotic e-mails regarding my fears about each application."
Beaye says that Temple really pushed him to achieve more than he thought possible.
"When I first came to school, I thought I was going to get out and just get a regular job, but Temple taught me I can do so many things," he said. "I can use my education to help people. I can do things that influence the world in a way I didn't realize before."