Meet the 2014 graduates: Katerina Johantgen
Degree: BA, theater, Division of Theater, Film and Media Arts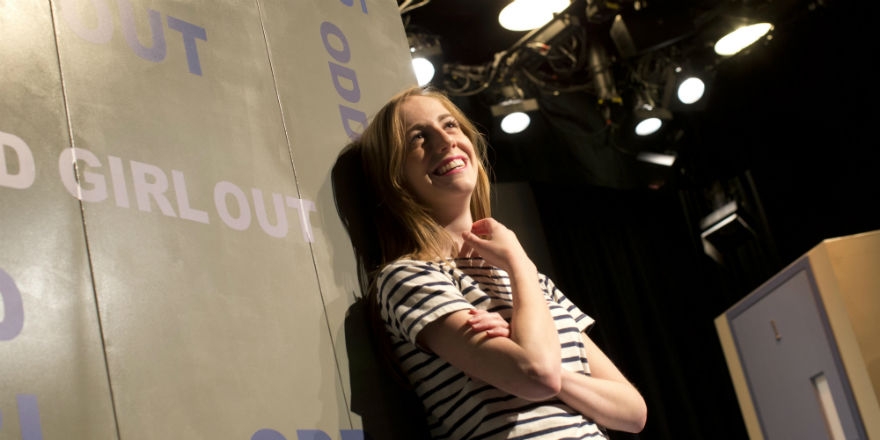 Katerina Johantgen is no stranger to the limelight. In 2010, she enrolled at Temple as a theater major and quickly stood out to faculty members as a dynamic performer. Now, the Department of Theater's shining star will take the main stage for her final leading role at the university: student speaker for Temple's 127th Commencement.
As a high school student in Wayne, Pa., Johantgen visited Temple after her mentor told her about the Department of Theater. "My mentor is an actress in the city, and she said Temple had a really good program. So I took a tour and it wasn't anything like I expected," she said. "I loved it! I was so grateful to come here and find a community that embraced me and really wanted me here."
As a freshman, Johantgen began auditioning for student productions and training in the areas of music, theater and dance. While at Temple, she also joined the Delta Phi Epsilon sorority and became an Owl Ambassador. "The admissions process was such an important, yet stressful, time for me. I wanted to become an ambassador to help students realize that Temple could be the right place for them, too."
Johantgen says her appreciation for Temple has only grown stronger over the years. "Temple has allowed me to be a person and an artist," she said. 
Within the Department of Theater, Johantgen has earned lead roles in several plays, including Temple Theaters' productions of Spring Awakening, Oklahoma! and Odd Girl Out.

Edward Latham, associate professor of music studies and chair of the universitywide student-award selection committee, says Johantgen was selected as commencement speaker because she has a positive attitude, star quality and a powerful message to deliver to the Class of 2014.
"I have been impressed with Katerina since she entered Temple as a freshman. She has never let me down, always stretched herself and explored varied interests with the theater department," said Peter Reynolds, TFM '05, associate professor and head of musical theater, in a letter to the committee. "I am sad to see her graduate. However, I am more excited about all of the things she will accomplish in her life. Katerina is the kind of student one wishes could be cloned."
Johantgen says she hopes to deliver a moving speech to show her gratitude for her soon-to-be alma mater. "This has been my home, and my community, and my family for the last four years. Temple has really helped me come into myself and figure out who I am and what I want to do. I want to write a speech to give something back and inspire my classmates to get excited about this next step we're taking in life."
Following Commencement, Johantgen will spend the summer in Los Angeles through Temple's Los Angeles Study Away Program.