Temple partnership to offer community job training
Partnership will offer skills training, educational opportunities in North Philadelphia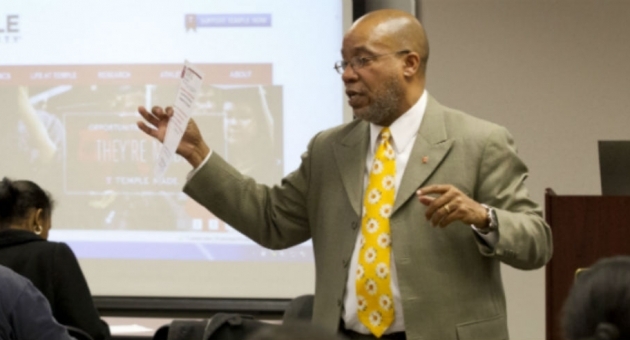 Temple University and the Laborers' District Council Education and Training/Apprenticeship Fund recently announced plans to redevelop the former William Penn High School property, adjacent to the university's Main Campus in North Philadelphia.
The LDC Fund intends to use a portion of the site as a location to train its members in construction crafts. Temple intends to use the remainder of the site as playing fields for Temple's intercollegiate soccer and lacrosse teams, as well as student recreation space for intramural and club sports. The School District of Philadelphia's School Reform Commission approved the sale of the vacant property to Temple for a purchase price of $15 million at its June 19 meeting.
"Our partnership with the Laborers' District Council Fund furthers Temple's long-standing mission to provide excellent educational opportunities to the community," Temple President Neil D. Theobald said. "With an LDC job-training academy in the heart of North Philadelphia, many more residents will have convenient access to a range of pathways to success. This site will also give our students the high-quality recreational and athletic experience they deserve."
"We have been wanting to create opportunities like these for some time in Philadelphia," said Sam Staten Jr., business manager of Laborers' Local 332. "We're pleased to be able to offer educational opportunities to LDC Education and Training/Apprenticeship Fund instructors, union members, their families and the community at large. Greater Philadelphia will benefit from the expertise our workers bring to their craft."
Philadelphia City Council President Darrell L. Clarke, whose 5th District includes Temple, said there will be many benefits of the LDC training academy, as the LDC of the Metropolitan Area of Philadelphia and Vicinity represents Locals 57 and 332 in Philadelphia, Local 135 in Norristown and Local 413 in Chester.
"The Temple and LDC Fund partnership creates significant advancement for North Broad Street and provides important opportunities for enhancing the knowledge, skills and career prospects of Philadelphians," Clarke said.
Temple's Career Technical Education Center, part of the university's College of Education, will work with the Laborers' District Council Fund to enhance the qualifications of its instructors so they can provide superior job training.
These advanced teacher-training programs are envisioned to include on-site instructor mentoring, curriculum development and assessment. The offerings will enable LDC Fund instructors to further develop their teaching skills while also earning credits toward a Temple undergraduate degree in industrial education or other undergraduate or graduate degrees.
Planned areas of educational programming also include general education classes in literacy, English as a second language, GED, writing composition, and mathematics as well as life management (financial, stress-related, etc.) skills.
The job-training academy will be located in the building fronting North Broad Street. Current plans include removing other buildings so the site can be used for intercollegiate soccer and lacrosse, as well as student recreation.