Temple community celebrates Juneteenth with legendary Philadelphia saxophonist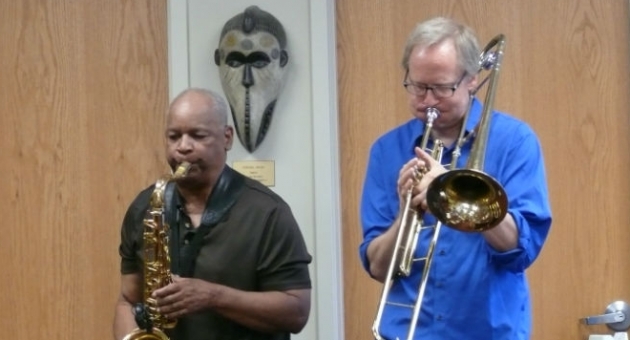 The Temple community recently celebrated the oldest known celebration commemorating the end of slavery in the United States.
On June 19, Temple University Libraries' Charles L. Blockson Afro-American Collection hosted "A Celebration of Philly Jazz in Observance of Juneteenth" featuring a discussion with and performances by legendary Philadelphia saxophonist Robert "Bootsie" Barnes.
Barnes was accompanied by John Swana, valve trombone; Justin Faulkner, drums; and Dan Kostelnick, Hammond organ.
"We paid tribute to Bootsie Barnes and presented him with a certificate of appreciation for his contributions to democracy through his lifelong commitment to the performance, creation, preservation and promotion of America's classical music—jazz," said Diane Turner, curator of the Blockson Collection.

Each year, to celebrate Juneteenth, the Blockson Collection acknowledges the contributions of African-Americans in Philadelphia by highlighting a theme related to the rich history and culture of the city; and exposing the rare and unique materials available in the Blockson Collection.

Regarding the theme of this year's program, Turner said, "Duke Ellington articulated it best when he said, 'Jazz is a good barometer of freedom,'" said Turner.