Temple University Amateur Radio celebrates 60 years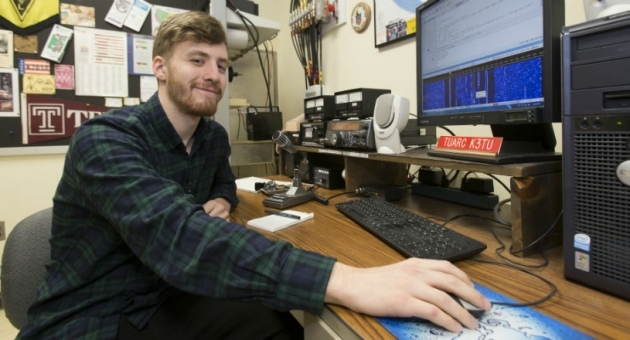 For the past 60 years, Temple has touched upon every continent in the world and, at times, even extended beyond Earth. But that outreach was not directed by Admissions or International Affairs. Rather, it was accomplished by members of Temple University's Amateur Radio Club, which operates station K3TU.
The radio club began in 1954 as station K3KJ and was broadcast in the old Stauffer Hall, where Morgan Hall North now stands. The station's call sign changed to WA3TVT in the mid-1970s, and it moved to the new Engineering Building in 1979. The station acquired its current call sign of K3TU in 1995.
"TUARC is an organization that is open to all students, faculty and staff, as well as alumni," said Temple Professor of Electrical and Computer Engineering Dennis Silage, the club and station's trustee since 1984. "Robert Smith, a former dean of the School of Media and Communication, was an amateur-radio enthusiast and often came to the station to broadcast.
"As long as you have a license from the Federal Communications Commission [FCC], you can operate the station," he added. "TUARC is housed in the College of Engineering, but you don't have to [study] engineering to participate."
According to Silage, Temple is one of only three colleges in the region—Rutgers and the University of Delaware are the others—to have an active, amateur radio station.
Located on the Engineering Building's seventh floor, K3TU has state-of-the-art equipment and features a primary and a secondary high-frequency station, as well as a VHF/UHF satellite station. There are approximately 20 active club members who use the station nearly every day, Silage said.
"We currently have one student from France now living here who frequently uses the station to talk with others in his native country," he said.
Over the years, the station has talked with people from such diverse places as the Galapagos Islands; the Johnson Space Center in Houston; U.S. embassies in Bulgaria, Belize, Brazil, the Canary Islands, Japan, Latvia, Russia and Zaire; and many others. They have even talked with some notable amateur-radio enthusiasts such as the late King Hussein of Jordan, former U.S. senator and presidential candidate Barry Goldwater and astronaut Brian Duffy while he was aboard a space shuttle and in orbit.
Steve Bergey, an electrical and computer engineering major who learned about K3TU at a student organization fair in February, recently obtained his FCC technician's license and has begun limited broadcasting.
"I can definitely see this being an interesting hobby," said Bergey, who wants to set up his own station at home once he acquires his general FCC license.
Though he has only made contact with amateur stations in England and Japan, his radio bucket list includes making contact with Antarctica.
"Getting a signal to go that far would be a pretty cool achievement in itself," he said. "Plus, the only people who go to Antarctica are researchers and scientists, so it would be a pretty interesting conversation."