Center for Sustainable Communities to help green Philly neighborhoods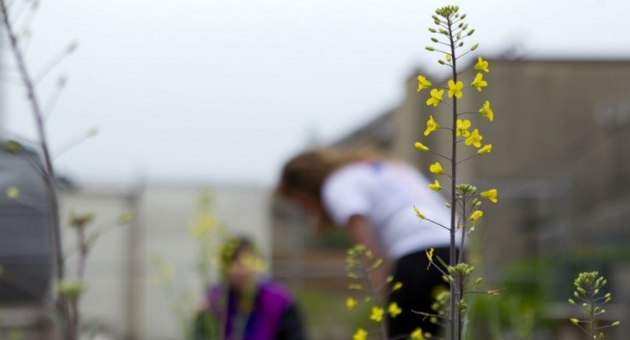 Temple University Ambler students will soon be equipped to help Philadelphia neighborhoods become more sustainable, thanks to a grant from the Wells Fargo Foundation.
The $25,000 grant to Temple's Center for Sustainable Communities will fund a new initiative intended to educate and empower Philadelphia residents to green their neighborhoods.
Next spring, students in "Community Development"—a new senior capstone class in  Temple's Department of  Community and Regional Planning—will develop "Green Neighborhood Tool Kits" and train community-based organizations serving Philadelphia low-income neighborhoods in how to become environmentally friendly.
"It was our goal to ensure that the course would be based in service-learning and benefit local communities," said Lynn Mandarano, associate professor in the Department of Community and Regional Planning at Temple and a research fellow with the center.
The Center is partnering with the Philadelphia Association of Community Development Corporations and the New Kensington Community Development Corporation for the project.
"The New Kensington Community Development Corporation is implementing a model our students will be working from. The goal of New Kensington's 'Sustainable 19125' program is to make the zip code the most sustainable in Philadelphia, Mandorano said. "The development corporation trained 'Green Guides' and literally went door-to-door for education and outreach. It has been a very successful model that we believe can be replicated in other communities."
According Mandarano, Temple students will customize the 'Green Guides' initiative for new community partners, creating "Green Neighborhood Tool Kits."
"The students will train volunteers, giving them a greater sense of what it means to be sustainable and what can be achieved at the neighborhood level," she said. "At the end of the semester, our students, community volunteers and volunteers from the Wells Fargo Green Team will kick off the door-to-door education campaign."
The Philadelphia Water Department is providing rain barrels; PECO will provide CFL bulbs; and the Pennsylvania Horticultural Society will provide street trees to support the effort, Mandarano said.
"At the end of this project, there should be measurable improvement in the environmental performance of these neighborhoods as sustainable initiatives are put into practice throughout the communities," she said. "This is a terrific opportunity to partner with Wells Fargo on a project that educates both our students and the community. They will learn the basic science of sustainability and approaches to quantify and calculate improvements in neighborhood environmental performance."
The Center grant was one of fifty-four grants announced by Wells Fargo & Co. totaling $3 million to organizations nationwide working in the areas of land and water conservation and energy efficiency.  The grants were awarded through the Wells Fargo Environmental Solutions for Communities program, a five-year, $15 million initiative administered by the National Fish and Wildlife Foundation.
"We believe that helping our communities become more resilient and better stewards of the environment will improve the long-term quality of life of our customers and team members," said Mary Wenzel, Wells Fargo's director of environmental affairs.