Naveen makes sure her students get a return on their investment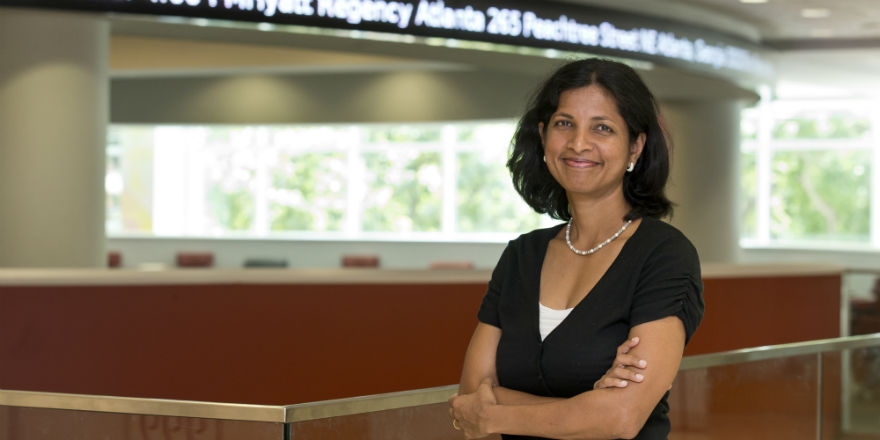 As a young child growing up in India, Associate Professor of Finance Lalitha Naveen was always drawn to numbers.
Her undergraduate studies in chemical engineering satisfied that love, but it was in earning her MBA in finance that she realized another passion—teaching. So strong was her understanding of the subjects that she would informally teach her friends and classmates, "especially those terrified of math," she said. And Naveen loved every minute of it.
"My friends kept coming to me and asking for help," she said. "They were able to understand the lessons when I was teaching them."
Confident in her skills, she set a course for teaching, collecting accolades along the way, including the 2014 Christian R. and Mary F. Lindback Foundation Award for Distinguished Teaching.
Naveen primarily teaches corporate governance and corporate finance at Temple's Fox School of Business. She has also taught core and elective courses for undergraduates, in addition to courses and seminars for MBA and doctoral students. "Regardless of the level of student, when someone says they understand what I've taught them, it gives me so much satisfaction," Naveen said.
Her natural affinity for teaching has been elevated by the use of technology. "When I began teaching as part of my PhD in finance at Arizona State University in the late 1990s, most in the profession were still using chalkboards and overhead projectors, she said. "I decided to learn the basics of Java (the programming language)—just enough to be able to set up my website—in order to bring my syllabi and coursework online for my students."
Naveen is right at home, then, at Temple's Fox School of Business, which she says is ahead of the curve for its incorporation of technology into the classroom. She regularly records her lectures for students to review later, posts her own notes online after every class, and uploads a full semester's worth of materials at the beginning of each semester so the students know what to expect.
"I think we as professors are still learning how to teach with technology," Naveen said. "I am constantly asking, 'how can I make it even better?'"
For her students who are not finance majors, Naveen said she wants them to understand that finance is very important to their lives, that they will need to make important decisions that involve finance, and that the subject is not as intimidating as they may think it.
For those students going into the finance industry, Naveen said she wants them to think of her class as a place where they will develop all the tools they will need to succeed and hopes that it is a "positive net present value" for them. (Don't know what that is? You may need to take one of her courses.)
"I don't think of it as work," Naveen said of teaching. "I just think of it as something I get up and do. I've been incredibly lucky."
- Sam Strike