Lewis Katz's unforgettable Temple graduation speech named nation's best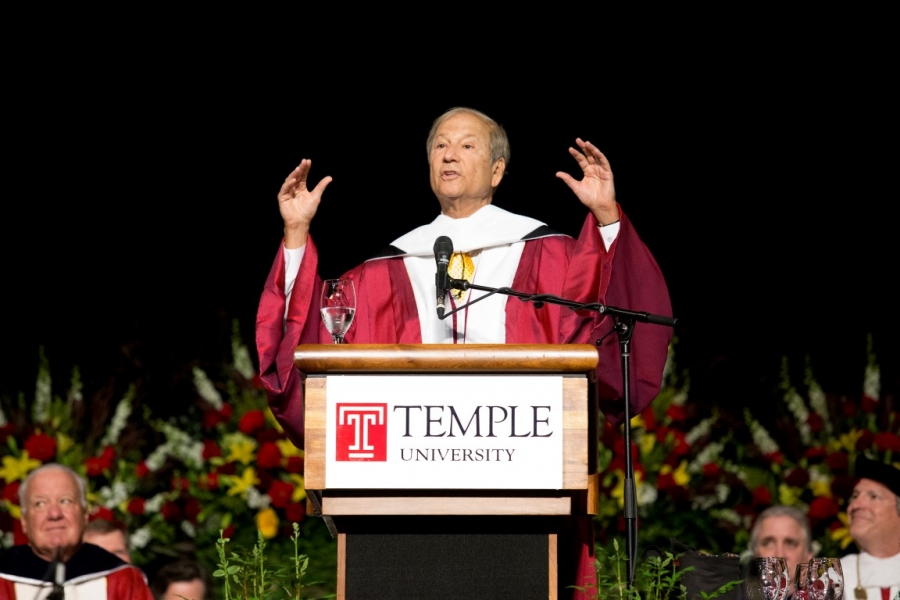 The last words that most people in the Temple University community heard from Lewis Katz, CST '63—the late entrepreneur, philanthropist and beloved Temple trustee and advocate—were those he shared in his uplifting address to graduates at Temple's 127th Commencement exercises on May 15, 2014, only 16 days before a plane crash claimed his life.
Now those words have earned the highest honor a Commencement address can receive. The North American Association of Commencement Officers (NAACO) posthumously named Katz the best commencement speaker of 2014.
Katz was one of five commencement speakers to be honored by NAACO in 2014. Among the honorees were world leaders (President Obama, who addressed graduates at the University of California, Irvine); prominent executives (Susan Wojcicki, who addressed Johns Hopkins University grads); and students (Nicholas Christian, who addressed his classmates at Philadelphia University).
"Lewis' speech at that Commencement ceremony was among the most inspiring ever given," said Patrick J. O'Connor, chair of Temple's Board of Trustees. "His humor, along with stories of his path to success in business and in life, moved our graduates to their feet. It was one of the proudest days of his life."
In his speech, which was given after accepting an honorary doctoral degree from Temple, Katz told graduates his life story: growing up without a father, working to put himself through college, taking chances in his first investments, and what he learned after a career in business, sports and journalism.
Standing in front of the graduates, he told them his business success was not the most important part of his life. Instead, it was his family and friends whom he cherished.
"Life in my view is meant to be enjoyed," Katz said speaking to Temple's graduates. "It's meant to have as much fun as you can conjure up," he said.