Student film project nominated for Geek Award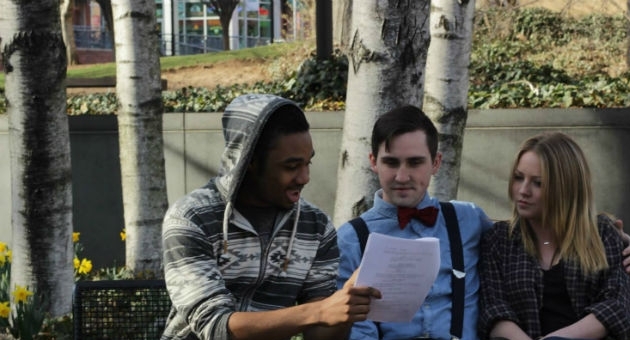 A comedy web series created by a group of undergraduate Temple University filmmakers has just earned some major "geek props." Panel by Panel follows three comic-loving friends as they navigate the trials and tribulations of college life armed with light sabers, a Captain America shield and a sense of humor. The show has been nominated for a 2014 Philly Geek Award.
The series is produced by Temple student film organization Wandering Studios. The group's founder and president Connor Griffin, TFM '16, and series creator, writer and director Daniel Foster, TFM '16, couldn't be more pleased to be nominated for one of the city's highest honors in the geek scene. For them, it's validating to be recognized for doing a show about what they love: comics, gaming and comedy.  
The geek badge of approval is especially meaningful to Foster because his interest in geek culture is close to his heart. "I've never been a fan of
Big Bang Theory
—I think it makes fun of people who like that stuff," Foster said. "With
Panel by Panel
, I wanted more to just have a commentary on all aspects of geek culture."
The first season premiered in December 2013 and it consisted of five comedy shorts that garnered hundreds of views from fans all over the country. The second season aired this spring with five more episodes and incorporated more sophisticated special effects and a heightened soundtrack to go along with more involved story lines.
Griffin hopes a Geek Award win will put Wandering Studios in the local spotlight. "It will hopefully get the word out more about the organization at Temple, which is one of our goals: how to get more people aware that we exist."
Foster said a win would give him confidence as a filmmaker. "It's cool knowing that something you worked hard on is getting recognized."
With nods to Lord of the Rings, Batman, Star Trek, and other fan favorites, the show has wide appeal. "When I was growing up, I was bullied a lot because I was a big superhero fan and I loved all that stuff," Foster said. "And now everyone loves it. It's mainstream."
Although the series ended after two seasons, Foster is proud of the show's finale. "We ended it on a high note," he said. "I don't know how we can top the last episode because from both a visual and emotional standpoint, nothing could be as impactful."
The entire Panel by Panel web series may be viewed on the Wandering Studios YouTube channel.
- Anna Goldfarb