SMC students recount South Africa experiences in 'Daily News' articles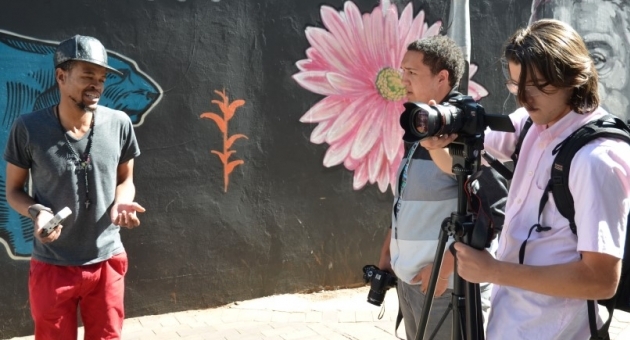 The students of the School of Media and Communication Study Away program in South Africa were able to share the stories of their experiences this summer through a special edition of the Philadelphia Daily News.
Nine of the 11 Temple University students who participated in the program wrote a story for the Aug. 16 newspaper on a slice of South African life they thought would resonate with the readers back home.
Their topics ranged from a simple story about how a $10 football lead to an international friendship to a serious look at arranged child marriages.
Linn Washington, an associate professor of journalism at Temple University and director of the 2014 South Africa program, initially pitched to the Daily News the idea of publishing student-written stories about their experience to editor Michael Days.
Days came back with a bigger idea. The stories made up the "Big Read," a Daily News section that features in-depth coverage on a particular subject.
"But on occasion, the Big Read is about something outside the norm of what we cover—and the stories and images by students visiting in Nelson Mandela's homeland dovetails perfectly with the purpose of the Big Read," said Michelle Bjork, assistant managing editor.
Washington assigned his students to examine South Africa from the perspective of the "Born Frees," people who were born after 1994 and never experienced apartheid.
Nichelle Brunner, SMC '16, a communication studies major from Washington, District of Columbia, who wrote the piece on child brides, said she purposefully sought out a subject that affected young girls.
"As an outsider in South Africa, it was crazy to hear girls as young as 10 were being forced into arranged marriages," she said. "These young girls are not able to access and/or continue their education and some are giving birth and dying during childbirth because their bodies are undeveloped. People need to know about these issues because it is not strictly a South African issue—it is a human issue."
The students' articles, Washington said, provide a glimpse into life in South Africa unlike any traditionally done by mainstream media outlets, which tend to focus on the political strife in that nation.
"The students' stories were great because, collectively, they gave our Daily News readers a slice of life in post-apartheid South Africa that often left the readers wanting to know more," said Yvette Ousley, assistant city editor.
Lucas Proctor, SMC '2015, a media studies and production major from Wilmington, Delaware, who wrote about his experience introducing his football to South Africans, said the experience of being examined while having a catch with his fellow students was too surreal to ignore.
"To be honest, I think it was a small little thing that happened to us down there that ended up being one of the best memories," he said.
Aside from a new friendship inspired by a football, Proctor returns with a new perspective, too.
"It makes you realize how good you have it," Proctor said. "Africa is a beautiful place. The people of that continent are amazing people and they deserve better, and a greater appreciation from everyone in the world."
—Jeff Cronin