Matt Rhule TV show coming to Temple Television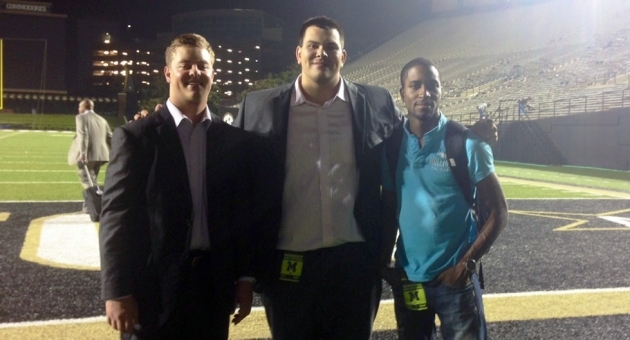 There's a new way to relive the excitement of Temple University Football each week.
TUTV-Temple Television will air Temple Football Head Coach Matt Rhule's Tuesday press conferences live starting Sept. 2. The new show, The Matt Rhule Weekly on OwlSports Update, is hosted by Zach Gelb, SMC '16, from Dix Hills, New York, and Chase Senior, SMC '15, from West Chester, Pennsylvania.
"Zach and I have a daily sports talk radio show [on WHIP] together and have called basketball and football games alongside each other, so I'm looking forward to taking our talents to television," Senior said. "Launching this show will give us another platform to share our insight, knowledge and thoughts, while also giving us an opportunity to gain real world experience that will prepare us for our careers after college."
The show begins at noon each Tuesday on TUTV, which can be seen in Philadelphia on Comcast 50 and Verizon 45 and online at www.templetv.net. Gelb and Senior will do a quick recap of the previous game and then send it over to Edberg-Olson Hall for the entirety of the press conference. After Rhule answers the reporters' questions, the hosts will break down the coach's comments and preview the team's upcoming game until 12:45 p.m. On bye weeks, the show will go on without Rhule's news conference and will include in-studio guests to assess the current state of the football season.
"I believe this show will be very successful and allow fans to be informed all season long about the X's and O's of Temple Football, as Chase and I bring a unique perspective covering the team," Gelb said. "We have dedicated a lot to this team."
Approximately 15 students will work on each live show, including the anchors and senior producers Ibrahim Jacobs, FOX '15, from Falls Church, Virginia, and Kevin Otte, SMC '15, from Brogue, Pennsylvania.
Executive Producer Matt Fine, assistant professor of media studies and production in the School of Media and Communication, said the fact that OwlSports Update will be airing a live element from outside the studio for the first time and that the crew has no idea what Rhule will say during his news conferences will require the students to think on their feet much more than the structured weekly OwlsSports Update show that airs Thursdays at noon on TUTV.
Paul Gluck, general manager of TUTV and associate professor of media studies and production, looks forward to what the new show will bring to the students working on it, as well as the TUTV audience.
He said, "At TUTV, we view this project as an excellent opportunity to help our students cultivate the specialized skills required to produce and broadcast live television, while providing our cable and online audiences with the kind of access to Coach Rhule's news conference that used to require a press pass."
-Jeff Cronin