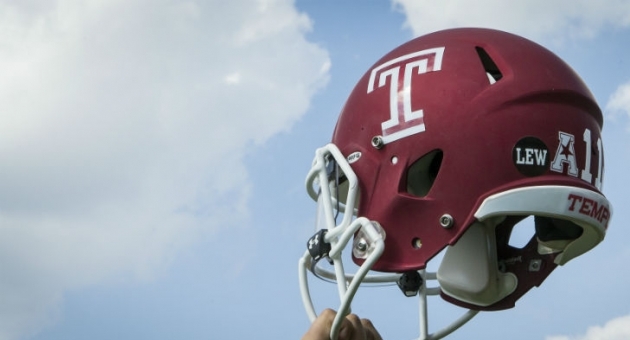 Following on the heels of a thrilling victory at Vanderbilt last weekend, the Owls will host their home opener on Saturday, September 6, against Navy. The game kicks off at 1 pm ET at Lincoln Financial Field and can be seen on ESPN3. Those in the Philadelphia area can listen to the game on 97.5 FM. Tickets are still available, and can be purchased at www.OwlsTix.com or at the Lincoln Financial Field box office. Kids' tickets on game day are only $7.
At the game and for the duration of the season, the Temple University football team will honor the memory of long-time Board of Trustees member and alumnus Lewis Katz, CST '63, by wearing commemorative "Lew" decals on their helmets.
At the end of the first quarter, Drew Katz will be presented with a framed jersey in honor of his father's service and dedication to the university.
Temple fans are invited to show their support for the team at the Cherry On Pep Rally, Friday, September 5, at 3:30 p.m. on Liacouras Walk.