CLA supply drive helps elementary school in North Philadelphia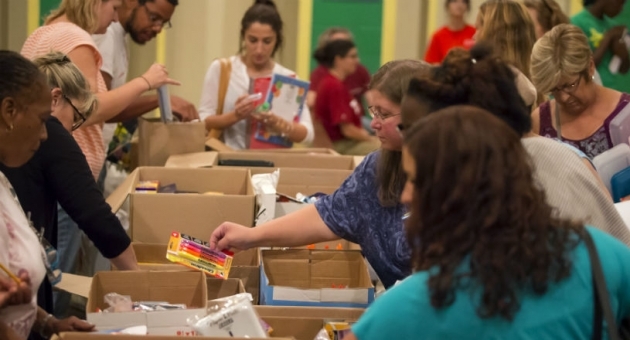 After a summer of collecting donated school supplies, representatives from the College of Liberal Arts (CLA) and its alumni association delivered more than 4,200 items to North Philadelphia's Tanner Duckrey School on Friday, September 5.
More than 35 boxes of supplies—including crayons, art boxes, notebooks and schoolbags—filled the Duckrey cafeteria, where teachers and students were invited to "shop" for items they need for the upcoming school year. 
Kristin Grubb, manager of operations for the Office of the Provost, organized the supply drive in conjunction with the CLA Alumni Association. "We are so grateful for the support," she said. "I can tell from the amount of goods we collected that folks at Temple care and want to connect with the community."
Donations poured in throughout the summer from staff, students and faculty at three different campus drop-off spots. Some items were even donated by neighbors who heard about the drive. Grubb kept a detailed inventory of supplies as they arrived and said that while more than 4,200 items were collected, multiunit items actually put the total individual pieces donated at more than 111,000. 
At Duckrey, dozens of teachers and students expressed their gratitude. Like most schools in the Philadelphia School District, funding for supplies has been cut or dismissed altogether. Teachers receive $100 a year for supplies, which doesn't go very far in classrooms where students sometimes bring nothing to school. 
"I can't explain how helpful it truly is," said Principal David Cohen. "We now have all the stuff you'd assume schools would have. Regular stuff like paper and pencils that just get cut out of the budget."
After such a successful inaugural drive, the college and the CLA Alumni Association plan to make the collection an annual event.
—Shannon McLaughlin Rooney