Red-hot starts for Temple women's sports
Soccer, volleyball, field hockey are 14-1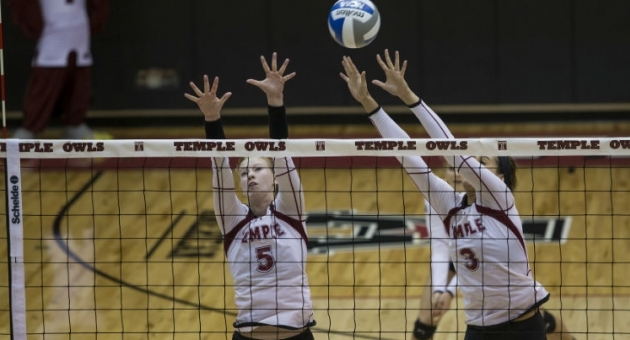 Talk about hitting the ground running. Three of Temple's women's sports programs are off to blistering starts, with two still undefeated.
The women's soccer team has won its first five games—the best start in the program's history—taking down two local rivals, St. Joseph's and Drexel, in the process. The Owls have outscored their opponents by a 12-2 margin. Junior transfer Gina DiTaranto leads the team with four goals, and junior Shauni Kerkhoff has already earned American Athletic Conference Goalkeeper of the Week honors twice. After a six-game road trip, Temple will kick off a three-game home stand at Temple Ambler on Thursday, Oct. 2, when the Owls host Tulsa (4 p.m.).
Temple women's volleyball also has yet to lose in 2014. After sweeping their opponents at the Syracuse Invitational, the 6-0 Owls beat Charlotte, Princeton and Holy Cross at the Temple Invitational. Sophomore Kirsten Overton took home MVP honors at the Syracuse Invitational, recording 31 kills; junior libero Alyssa Drachslin was named the Temple Invitational MVP. The Owls won't return to Philadelphia until the Big 5 Tournament at the Palestra on Sept. 19-20. They play their first home match at McGonigle against Cincinnati on Oct. 10.
Temple field hockey opened the season with two wins at the Conference Cup at the Nook in Lancaster, including a 2-0 dismantling of Massachusetts, then ranked No. 10 in the nation. The Owls followed up with a 6-1 win at Rutgers, the Scarlet Knights' only loss of the season. Temple's white-hot start was derailed at No. 4 Duke last weekend, but the Owls have served notice that they'll be a force on the national scene in 2014. Senior goalkeeper Lizzy Millen has allowed only four goals in nearly 255 minutes of play. The Owls play their first home game on Friday when they take on Delaware at Geasey Field at 3 p.m.