Posted
September 29, 2014
Bike Surplus Program offers affordable bikes to Temple students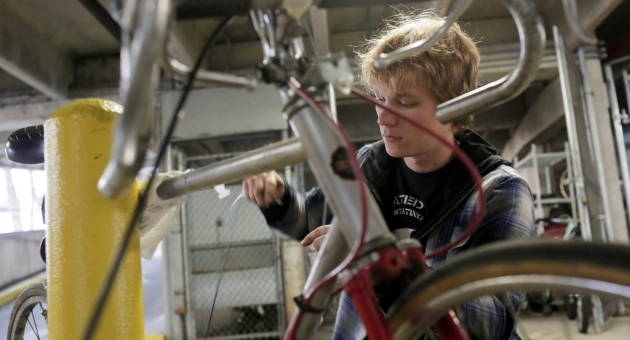 For the many Temple University students living on or near campus, biking to class has become a popular means of transportation.
Now Temple's Office of Sustainability is making getting a bike in the first place much more affordable for students, thanks to its new Bike Surplus Program.
Established this fall, the program offers used bikes to students at reduced prices, generating its inventory from bikes that either have been abandoned or locked illegally at locations on campus. If unregistered, these bikes are held by Campus Safety Services for up to one year.
Those bikes unclaimed for more than a year are donated to Bike Surplus, which makes them available to Temple students at prices ranging from $50 to $100.
All proceeds from the Bike Surplus Program go to the Bike Temple initiative, which promotes bicycle use in the Temple community. The funds enable the group to hold events throughout the semester, including bike safety workshops and special group rides.
Bike Temple Coordinator Blake Larson, College of Engineering, Class of 2016, conducts minor repairs on the bikes in order to make sure they are rideable before they are sold.
Larson says the discounted bikes are opening up the world of cycling to many more Temple University students. "Students who wouldn't have otherwise gotten to ride get to ride, and that's a huge benefit for the Temple cycling community," he said.
According to Kathleen Grady, director of Temple's Office of Sustainability, in addition to offering a great price for students, the Bike Surplus Program helps Temple's campus to be more environmentally friendly.
"Bike Surplus helps us to take care of the waste that comes along with disposing of abandoned bikes on campus," she said.
Those interested in purchasing a bike through the Temple Bike Surplus Program can contact Blake Larson at BikeTemple@temple.edu to set up an appointment to view the inventory. All items must be purchased using Diamond Dollars.
In the future, Bike Surplus hopes to work with the Office of Computer Services to make bike selection available online.