Princeton Review ranks entrepreneurship programs at Fox among the nation's best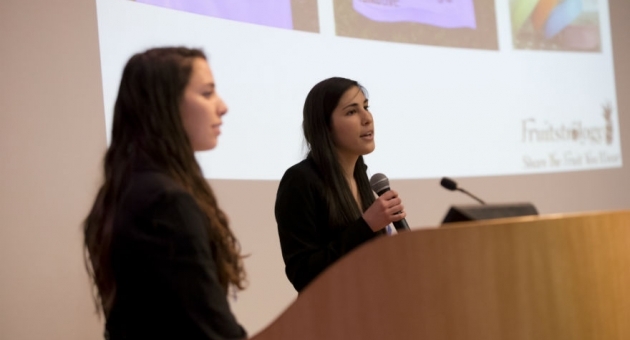 The Fox School of Business at Temple University continues to climb as one of the nation's top entrepreneurial colleges and universities.
Entrepreneur magazine ranked the graduate programs at Temple University's Fox School of Business No. 1 in the nation for entrepreneurial mentorship. The report, published Sept. 16 in conjunction with the Princeton Review, identified Temple as offering the highest number of mentorship programs for graduate entrepreneurship students.
The Fox School also ranks No. 11 nationwide for undergraduate entrepreneurship, up two spots from the previous year's report, and ranks No. 16 among graduate programs, a three-spot improvement from 2014.
The latest rankings are based on surveys sent to school administrators at more than 2,000 institutions between April and June 2014. The lists recognize 50 programs in all—25 undergraduate and 25 graduate—for excellence in entrepreneurship education.
The Fox School is the only business school in Greater Philadelphia to have been included in the rankings. Fox has been ranked each year since the Princeton Review began its rankings in 2006 in partnership with Entrepreneur Media Inc., the publisher of Entrepreneur magazine.
"By emphasizing innovation, promoting small-business development and preparing our students to think of themselves as entrepreneurs, we continue to drive economic growth and job creation in the Philadelphia region and beyond," said Fox School Dean M. Moshe Porat.
"We are proud to once again be recognized as one of the country's premier institutions for teaching and practicing entrepreneurship, and we look forward to further enhancing our programs in order to strengthen entrepreneurship not only at the Fox School but also universitywide."
Through Temple's Innovation and Entrepreneurship Institute (IEI), which is based at the Fox School, the university annually conducts the Innovative Idea Competition and Be Your Own Boss Bowl, business-plan competitions for all students, faculty, staff and alumni. With prizes exceeding $200,000, Be Your Own Boss Bowl is considered one of the nation's most lucrative and comprehensive business-plan competitions.
IEI also operates Mid-Atlantic Diamond Ventures (MADV), the region's largest entrepreneurship advisory and year-round venture forum program. Since 2003, MADV has worked with 328 innovation-based emerging firms in the region to raise more than $250 million in Series A funding.
The Fox School and IEI provide internship opportunities, business-planning workshops, seminars, and mentoring and coaching, in addition to annual conferences in social, global, women's and industry-specific entrepreneurship.
Over the last three years, the IEI, either alone or in partnership with other Temple schools and colleges, has expanded its offerings to include a range of master's degree programs, a General Education course in Creativity & Organizational Innovation, and an Entrepreneurial Living Learning Community.
In addition, the IEI has transformed the undergraduate major, minor, and certificate programs in Innovation Management & Entrepreneurship to offer a broader range of options for the diverse student body across Temple University.
—Christopher A. Vito