Dental students provide oral healthcare to Peruvian orphans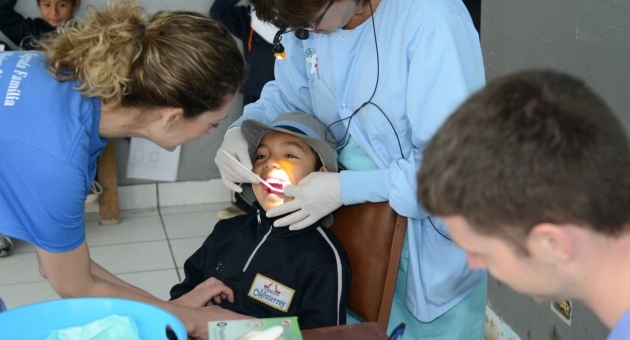 For the past two summers, students from Temple's Kornberg School of Dentistry, led by Bari Levine, a student in the Doctorate of Dental Medicine-Master of Public Health (DMD-MPH) dual-degree program, have traveled to La Ventanilla, Peru, to provide needed oral healthcare to children at La Sagrada Familia orphanage.
Levine first learned about the orphanage, which houses nearly 800 children, in 2012 when she was asked to provide toothbrushes for the children, who were being visited by Temple medical students.
She secured the supplies, and also talked her way onto the trip.
"I immediately fell in love with the children and noticed the need for oral health education and supplies," said Levine, who will graduate in 2016. "I vowed then that I would return to the orphanage the next year."
Since that visit, Levine has organized two dental missions to the orphanage. "I combined the knowledge and skills from my public health and dental school classes to design an oral health program with the goal of improving the children's oral health," she said.
In addition to raising money and recruiting fellow Temple dental students, she has made the project a family affair by involving her parents, who are both dentists and Kornberg School alumni. Her mother, Sheryl Radin (ENG '78, DEN '82), is a pediatric dentist, while her father, Robert Levine (DEN '81), is a periodontist.
During their first visit in 2013, the group—Levine, her mother and three Kornberg students—focused primarily on providing oral health screenings and oral health education to 140 children. They also trained nine supervisors at the orphanage on the importance of oral health.
"We discovered from our questionnaires and screenings that the children's oral health was neglected," said Levine, who credits the mentorship of Public Health Assistant Professor Freda Patterson for motivating her. "I wanted to return in 2014 and have a fully functional dental clinic."
For this past summer's trip, Levine enlisted the support of Henry Schein, a provider of healthcare products, which donated thousands of dollars worth of dental equipment through its foundation. The KinderSmile Foundation supplied x-ray and dental equipment, three dentists, a hygienist, and 10 college students for the trip.
"Over five and a half days, we screened, educated and treated 150 children—including over 70 children we saw in 2013—and 10 supervisors. We provided over $35,000 in dental procedures, including x-rays, cleanings, restorations, sealants and extractions," said Levine. "We now have dental records on the children to track their oral health progress year after year."
The orphanage has also entered into an agreement with the Kornberg School that allows Levine and her group to provide care for the next six years, ensuring the program's sustainability.
Fundraising is already underway to meet Levine's goal of $30,000 for the 2015 trip. To donate or for more information, contact Levine at barilevine6@gmail.com.
- Preston Moretz