New library will redefine Temple campus and academic experiences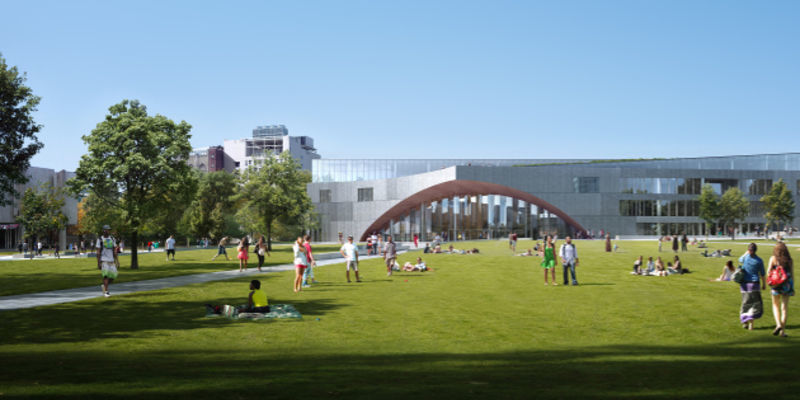 Image Courtesy of Snøhetta
With Visualize Temple—Temple University's comprehensive campus plan—drawing closer to completion, anticipation is building for the plan's centerpiece: a new, state-of-the-art library.
That structure is being designed by Snøhetta, an architectural firm renowned for its innovative library designs, in partnership with a Philadelphia-based design firm, Stantec. Though many details about its design have yet to be finalized, Snøhetta presented renderings of the building's exterior to the Temple University Board of Trustees Facilities Committee Monday, Dec. 8. The rendering pictured here communicates the library's grand scale, beauty and leading role in redefining Main Campus.
"We are a world-class university with world-class faculty and students," Temple University President Neil D. Theobald said. "This bold structure—a place for truly collaborative learning—will be the library our community of scholars deserves."
An academic commons
The Visualize Temple campus plan places the library at the site of Barton Hall. It will be adjacent to a new quad that, when complete, will be the largest green space in Temple's history. Together, the new library, the quad and Paley Library (which will be repurposed as a part of the planning process) will form an academic commons in the middle of Main Campus.
"I believe libraries and their role in teaching, learning and research are, and always will be, central to the university experience," Theobald said. "The location of our new library reflects my vision of its centrality. Temple's academic heart will be where it belongs: at the core."
Current plans outline a library with more than 210,000 square feet occupying a space approximately the size of a city block. It will be bounded by Polett Walk to the south, Liacouras Walk to the west, Norris Street to the north and eventually, the quad to the east. Snøhetta's rendering shows dramatic arched entrances and hints at a green roof, as well as a large, upper-level outdoor balcony space that will offer views of campus.
"Temple's academic heart will be where it belongs: at the core."
-- Temple President Neil D. Theobald
Joseph Lucia, dean of University Libraries at Temple, said the library will have a "highly varied ecosystem" of spaces, including those devoted to activities traditionally associated with libraries, such as quiet study and reading, and spaces for group activities, special events and technology-mediated activities, such as data visualization and 3-D printing.
"Librarians are often asked why, in a world of digital information, physical libraries still matter," Lucia said. "Libraries have never really been merely about the stuff they house; they have always been about inspiration. They are environments designed to connect people to ideas and call communities together for creative engagement with the life of the mind and the imagination. A great university will always need that kind of space—perhaps now more than ever."
James Creedon, senior vice president for construction, facilities and operations, thanked the Temple community for sharing ideas about the library via the Visualize Temple social site and a series of town hall meetings, focus groups and other input sessions.
"Because of the feedback from stakeholders, this library will not only reflect the vision of the architects, the university leaders and the Temple Libraries staff—it also will reflect the input we received from faculty, students and staff," Creedon said.
Construction of the library is estimated to begin in late 2015 and be completed in late 2018.