Rare John Coltrane album recorded live at Temple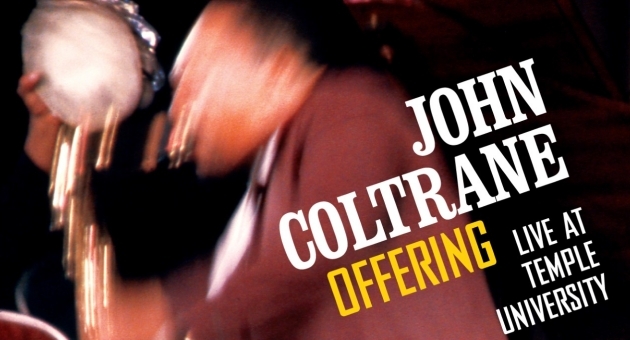 Courtesy of Resonance Records
On Sept. 23, John Coltrane's birthday, Resonance Records released Offering: Live at Temple University, a Nov. 11, 1966, performance that was recorded nine months before the legendary jazz musician's death.
The concert, recorded at Temple's Mitten Hall, featured Coltrane's long-term collaborators—his wife, Alice Coltrane, on piano; saxophonist Pharoah Sanders on reeds and flute; and drummer Rashied Ali—along with revered local bassist Sonny Johnson, alto saxophonists Arnold Joyner and Steven Knoblauch, and percussionists Umar Ali, Algie DeWitt and Robert Kenyatta. The deluxe two-CD set features a 24-page booklet of notes by jazz journalist and historian Ashley Kahn.
To Dick Oatts, professor of jazz studies at Temple's Boyer College of Music and Dance, the importance of this record to the jazz community cannot be overstated. "Anytime you can find a video or audio of John Coltrane, it is like discovering the holy grail to jazz fans and musicians," Oatts said.
Inferior, abbreviated bootlegs of the concert have circulated for decades, but this is the first time the full concert recording has seen a proper release, thanks to Coltrane scholar Yasuhiro Fujioka of the Coltrane House of Osaka, Japan.
In 2010, Fujioka acquired the original master tapes, recorded by Temple's then student-run radio station, WRTI. He was able to get the tapes in the right hands, leading to the remastering of the material.   
According to Oatts, part of the record's appeal is its historical context. "The mid-1960s was a turbulent era in many regards," Oatts said. "From civil rights to an explosion of expression in music and art, Coltrane brought his art to levels of intensity that still have not been duplicated to this day."
For jazz studies major Seth Ebersole, Class of 2015, the release of this record is exciting. "First, you have a document of the biggest icon of modern jazz performing live only months before his death. That in itself is huge.
"Secondly," Ebersole continued, "the recording was made on our campus. I feel like Temple University and, by extension, the Boyer Jazz Studies Department, hold some real historical significance because of this album."
With this record release of his performance at Temple, Coltrane's legacy is reinforced, as well.
—Anna Goldfarb