Magid Abou-Gharbia receives international award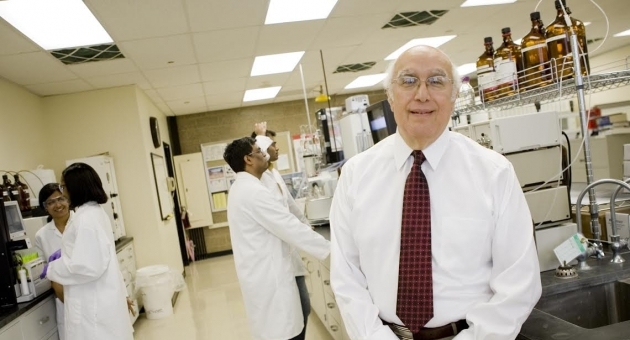 Magid Abou-Gharbia, director of the Moulder Center for Drug Discovery Research in Temple's School of Pharmacy, has received the Grand Hamdan International Award in Drug Discovery.
The award was presented in December by Sheikh Hamdan bin Rashid Al Maktoum, deputy ruler of Dubai and minister of finance, at the Dubai International Conference for Medical Sciences, in recognition of Abou-Gharbia's outstanding contributions and pioneering work in medicinal chemistry and drug discovery.
The conference is part of an Emirati initiative that calls upon health institutes worldwide to promote plans for specific research and scientific study to improve lives. Abou-Gharbia, who is also Laura H. Carnell Professor of Medicinal Chemistry and associate dean for research at the School of Pharmacy, delivered one of the conference's keynote lectures, on the discovery of innovative small-molecule therapeutics.
"I am honored to receive this prestigious award on behalf of the many talented and motivated scientists that I have had the good fortunate to work with over the last few decades," said Abou-Gharbia.  "Over the years, I have dedicated my career working in drug discovery to help alleviate patients' suffering through the identifications of novel therapeutics for treating various diseases."
Abou-Gharbia joined Temple as director of the Moulder Center in 2008 after spending 26 years as head of drug discovery at Wyeth Pharmaceuticals, where he helped create eight marketed drugs. The holder of more than 350 drug discovery patents worldwide, he was also recently named the Philadelphia Business Journal's Educator/Researcher of the Year and was the recipient of the American Chemical Society's 2014 Heroes of Chemistry award for his team's discovery of the antidepressant Effexor.
"I want to thank the multitude of dedicated collaborators at Temple's School of Pharmacy, other institutions and Wyeth research that have collaborated with me in my efforts and helped make receiving this award possible," he said. "I am especially grateful to the School of Pharmacy and Temple University for their continuing encouragement and support of the Moulder Center's research efforts."
"Dr. Abou-Gharbia is a highly esteemed and internationally renowned scientist whose many outstanding contributions in research and innovations in drug discovery changed the modern world," said Temple Provost Hai-Lung Dai. "This award is a great honor and a significant milestone, befitting the stature of Magid Abou-Gharbia."
As part of the award, Abou-Gharbia received $68,000 to support his drug discovery research. He was one of three Philadelphians to be presented with the Grand Hamdan award: Stanley Plotkin of the Wistar Institute won the award for medical research excellence in vaccines, and the University of Pennsylvania's Carl June received the award for medical research excellence in cell therapy.