Temple named a best value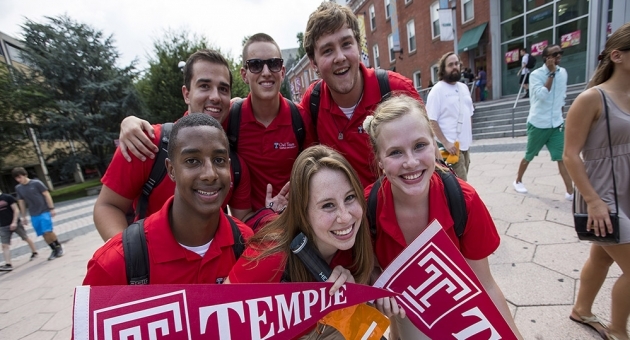 Temple University's reputation for excellence and affordability continues to grow with the university's inclusion in Kiplinger's Personal Finance's 100 best values in public colleges for 2015.
The rankings―which appear in the magazine's February issue―place Temple at no. 95 nationally, marking the university's first appearance on the list since 2011.   
"Our recognition by Kiplinger's comes just a few months after our highest-ever placement on U.S.News & World Report's Best Colleges," said Provost Hai-Lung Dai. "This ranking reflects Temple's continuing efforts in providing an excellent, world-class education with commitment to access and affordability."
According to the magazine, Kiplinger's defines value as "a quality education at an affordable price." It looks at factors such as admission and retention rates, student-faculty ratio, and test scores for incoming freshmen.
On-time graduation and limited tuition increases
Temple's inclusion on the list reflects the university's ongoing efforts to provide a superior education that prepares students for the real world while limiting their debt. This school year, Temple launched Fly in 4, an innovative program to help students graduate on time. Eighty-eight percent of freshmen signed up for the program.
Four-year graduation has become a focal point for Kiplinger's. According to the magazine, this was "based on simple math: The faster your child graduates, the less money you'll spend on his or her education." The magazine also considers tuition costs, financial aid and average debt at graduation in its rankings.
Temple boasts high graduation rates. In the 2015 edition of U.S.News & World Report's Best Colleges, Temple is ranked no. 22 among national universities for graduation rate performance, defined as the difference between a school's predicted graduation rate based on key indicators and a school's actual graduation rate.
In addition to creating Fly in 4, Temple has also limited undergraduate base tuition increases to an average of about 2 percent over the past three years.
Students and faculty
This fall, the university welcomed its largest and most academically accomplished freshman class ever with a record average high school GPA of 3.47. Temple's diversity also continues to increase, as demonstrated by a 10 percent rise in those who identified as students of color.
The education these students receive is made great by Temple faculty. This year, the university hired more than 60 new tenured and tenure-track faculty members, who add to Temple's unprecedented momentum in faculty recruitment, ensuring creativity and discovery in the classroom, lab and field. Since 2004, 630 new tenured and tenure-track faculty have joined the university.
Defined by momentum
"In the past few years, Temple has reached one milestone after another in our commitment to give talented students access to a life-changing education," said Dai. "Our continued ascent in rankings like Kiplinger's shows that the world is getting to know how great a Temple education truly is."
Kiplinger's gave Temple high marks for providing merit-based aid and limiting tuition costs. In addition to its list of the best values in public colleges, the magazine also published a list of the best values among all institutions, public and private. Out of more than 1,200 schools that were evaluated, Temple was ranked in the top 25 percent.