Temple-created summer camp boosts math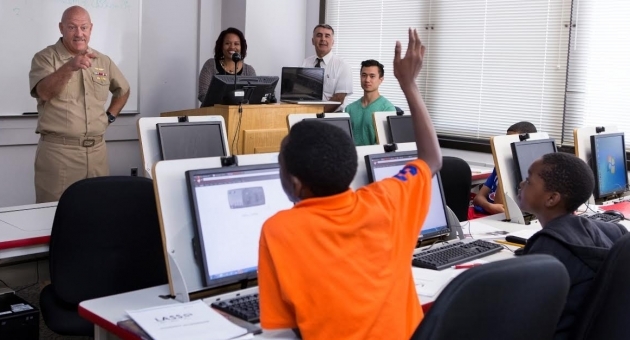 Students who participated in a one-week science, technology, engineering and math (STEM) summer camp created at Temple showed gains in their algebra skills and ability to use the software Excel to do math.
In just one week, the 230 eighth- and ninth-graders who attended the Logistics, Acquisition & Supply System Operations (LASSO) camp demonstrated a 6 percent improvement in ninth-grade algebra, a 6.6 percent improvement in math application and a 15.8 percent increase in their proficiency creating math formulas in Excel.
"We were looking to see if we could help make sure students were prepared for the next school year," said Jamie Bracey, EDU '07, Temple director of STEM education, outreach and research.
Over the summer months, K–12 students tend to forget what they learned in school the previous year. Educators call it the "summer melt," and teachers spend precious time reteaching subjects such as math instead of moving quickly to the next level of knowledge, said Bracey.
To cool the summer melt, teachers recommend that students practice their reading, writing and math over the summer. The LASSO camps, which took place in 10 different locations across the U.S., offered students an opportunity to retain and brush up on their math skills.
"Our results suggest that we were able to hold the line on summer melt on kids who ordinarily would have lost some percentage of what they had learned," said Bracey, who also directs the award-winning Pennsylvania MESA (Mathematics, Engineering, Science Achievement) initiative in Temple's College of Engineering.
According to Bracey, ninth-grade algebra is a gatekeeper course for almost all STEM-related initiatives. "If students can't pass algebra on time, they are not likely to take precalculus or calculus, limiting their opportunities to pursue engineering or science in college," she said. "The idea behind this camp was to try to prevent summer melt but also change what kids knew about a data-intensive discipline like logistics."
Bracey worked with Navy officers and teachers to design and deliver the camp, which uses the real-world example of U.S. Navy logistics to teach students algebra and how to use Microsoft Excel to do math. It is funded by the Navy's NAVSUP Weapon Systems Support.
Navy officers and a certified teacher instructed the students, who attended the intensive camp on-site for four days, followed by a one-day field trip and capstone project using logistics and applied math on the fifth day.
Nearly 70 percent of the students participating attended traditional public schools, students were fairly evenly split along ethnic and gender lines, and over 40 percent qualified for free or reduced-price lunch.
"Our results also suggest that students from varied backgrounds benefited from learning about math concepts in an industry context, perhaps better than they could apply the same math by just listening to a teacher alone," she said. "It's another justification for helping teachers use project-based or real-world learning."
Temple expanded from four sites in 2013 to coordinate camps in Philadelphia, Harrisburg, Pittsburgh, Baltimore, Chicago, Memphis, New Orleans, San Diego, Seattle and Tacoma, Washington, in 2014.
University partners in each city are eager to repeat the project based on these preliminary results, Bracey said.