Temple University to benefit from Exelon gift honoring Nelson Diaz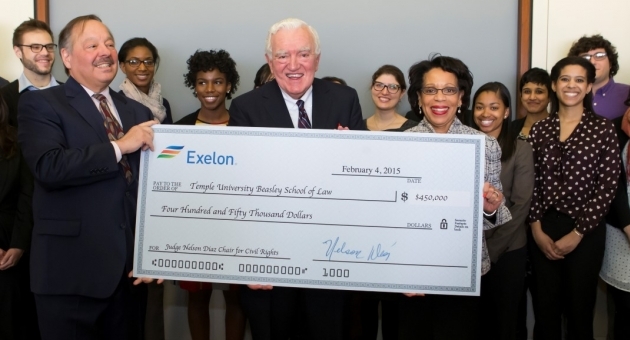 Exelon, the nation's leading competitive energy provider, has announced a $450,000 gift to Temple University's Beasley School of Law in honor of longtime Exelon board member Judge Nelson A. Diaz, LAW '72.
Diaz, who was the first Puerto Rican to receive a law degree from Temple, is also a longtime member of the university's Board of Trustees.
The Exelon gift bolsters the Beasley School's efforts to create a future endowed chair in civil rights that would bear Diaz's name, said Dean JoAnne Epps.
"Judge Diaz could have been honored in any number of ways. We are very grateful that Exelon has chosen to provide substantial funding toward our goal of establishing this endowed chair," said Epps. "We congratulate Judge Diaz on this honor."
Another Temple trustee, former Board Chairman Daniel H. Polett, will lead the effort to raise the remaining support for the future named chair, which would be designated as the "Judge Nelson A. Diaz Chair for Civil Rights."
"I'm excited to help my fellow Temple trustee in this worthy effort," said Polett. "Having served with Nelson for many years, I know he is determined to make this a success."
For Diaz, the named chair would cap a series of efforts at Temple aimed at improving the lives of others.
"My life has been dedicated to making a difference," said Diaz. "I want this gift to continue in that long tradition, and I thank Exelon for being a part of that commitment."
An additional $800,000 needs to be raised to complete the campaign.