Acclaimed designer collaborates with Tyler students on graphic map of Philly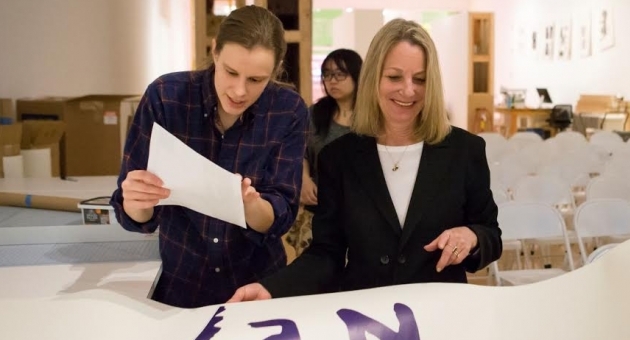 Paula Scher, TYL'70, uses her background in graphic design, fine arts and architecture to create maps that contain more than directions.
Using textual detail like population numbers, political orientation or words that represent national cultures, Scher constructs large maps that often fill an entire exhibit space and serve as social commentary.
Students in the Tyler School of Art will have an opportunity to work with Scher this semester on a one-of-a-kind map of Philadelphia.
On Wednesday, Feb. 4, students gathered in Temple Contemporary where they signed up for the project. Each received a canvas, paint, a paint brush and a segment of the Philadelphia map.
Scher asked students to research their assigned neighborhoods and use the information they find, such as street names, large intersections and landmarks, to visually represent their sections of the city.
The completed segments will be assembled together and mounted onto the floors and walls of Temple Contemporary.
A public reception will be held at the gallery Friday, May 8, 5:30 – 7:30 p.m.