Student-run café serves affordable local food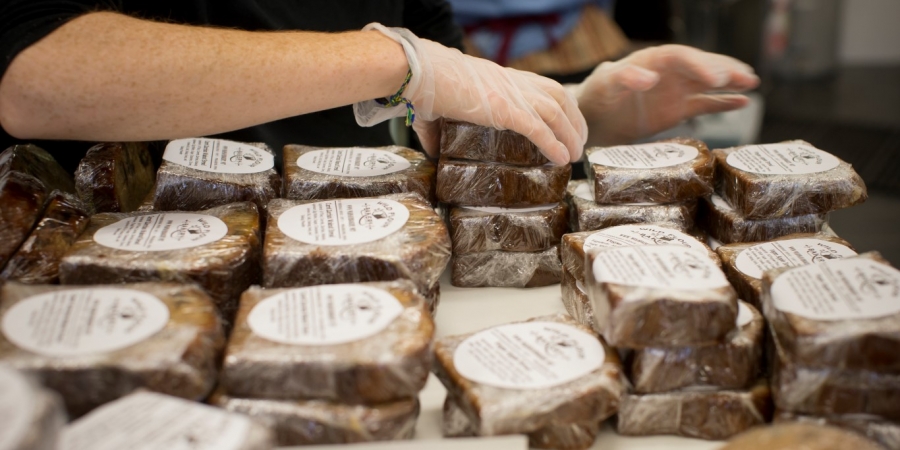 Ryan S. Brandenberg, CLA '14
On Feb. 5, students, faculty and staff lined up in Ritter Annex, eagerly waiting to scoop up house-made hummus with organic carrots or to dig into a salad of locally grown spring mix and wasabi peas.
The scene, the culmination of the vision, determination and years of hard work of a group of Temple students, was the grand opening of Rad Dish Co-op Café. A completely student-run, cooperative café—and the only one of its kind in the region on a university campus—Rad Dish offers local, organic, budget-friendly, vegetarian food.
Lauren Troop, Class of 2016, co-head of outreach at Rad Dish, initially became involved with the co-op in the fall of 2013 because of what she saw as a lack of healthy, tasty and reasonably priced dining options for vegetarians on campus.
"As close as we are to Pennsylvania, Delaware and New Jersey farms, it doesn't make sense that we have to eat food that has been shipped across the country," said Troop, an entrepreneurship major minoring in environmental studies.
The idea for a student-run café that offered fresh, locally sourced foods initially started in the spring of 2011 with a group of environmental studies students taking their Senior Research Seminar. Those students graduated without acting on their idea, but it lingered on campus until a new group of students made Rad Dish Co-op Café a reality.
As part of its mission to serve only food made with locally grown ingredients, Rad Dish looked nearby for suppliers. Common Market and Lancaster Farm Fresh Cooperative provide the produce; baked goods come from Wild Flour Bakery, owned by Temple alumna Laura Yaghoobian, FOX '01.
Jonathan Kardos, Class of 2015, the sourcing chair at Rad Dish, is responsible for working with vendors and creating menus. Because the café serves only organic, local food, the menu is subject to change, and Kardos is responsible for making those changes based on what is available.  
"I have learned a lot about how to work in the business world from working at Rad Dish and how to solve problems head-on," Kardos said.
Rad Dish is run according to a co-operative model by a board of directors and members. The co-op's policies are written as a group so everyone's opinion is taken into consideration, and decisions are voted on.
"We have students running all aspects of the business, from sourcing to finance to design to marketing and governance," Troop said.
The café also offers academic opportunities through independent studies and internship programs sponsored by Temple's Department of Geography and Urban Studies and the Fox School of Business.
"We want to use this café as learning tool. Students can apply what they learn in class to real-life situations," said Kathleen Grady, director of sustainability in Temple's Office of Sustainability, who was instrumental in helping the students get the café off the ground.
Anyone can get involved with Rad Dish by becoming an equity member. After paying $25, members receive a 10 percent discount at the café. Students can also become working members and work at the store for an hourly wage.
"We want to encourage people to explore healthy and tasty seasonal food with confidence that they are eating the highest-quality and freshest ingredients around," said Rhiannon Wright, Class of 2017, a member of Rad Dish Café's design and outreach committees.
"With offerings like $3 bottomless coffee, music and friendly faces, too, we hope the café becomes a regular destination for the Temple community, student or otherwise."
-Siobhan Redding