Temple Toast shatters goal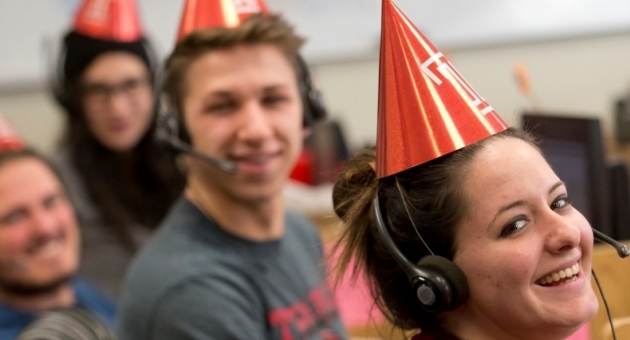 It was truly a cause for celebration.
On Feb. 17, the Temple Toast to Russell Conwell, a fundraising birthday celebration for the university's founder and first president, resulted in an outpouring of support from the Temple community.
The initial goal of 700 donors was reached just 15 hours into the 24-hour campaign. The final numbers: $127,754 raised from 1,274 donors.
"I'm very proud of how the entire Temple community came together," said Alysea McDonald, associate director of annual campaigns for Institutional Advancement. "I'm blown away by the support and proud of how everyone made philanthropy fun, celebrated the founder's birthday and demonstrated their Temple pride."
Pop-up birthday parties—held both on campus and off at regional events across the world—were well-attended by students, alumni, faculty and staff, who donned mustaches and birthday hats in homage to Conwell.
Festivities at the Howard Gittis Student Center drew a large crowd of students. Also hosting lively events were the College of Education, College of Science and Technology, Fox School of Business, Beasley School of Law, and School of Podiatric Medicine. WHIP, the student-run radio station, diligently spread the word.
"It was great knowing that we came together locally and felt unified nationally with the other chapters in spirit," said Frank J. Gallo Jr., FOX '97, a board member of the Temple University Alumni Association's Metropolitan New York Chapter, who organized the New York City party.
"It is also great knowing that our efforts were record-breaking and will contribute to the betterment of our university and future Owls."
Adds James W. Dicker, vice president for Institutional Advancement, "Philanthropy at Temple University impacts more than just campus—it provides access, technology and programs that power the world around us."
- Erica Brooke Fajge