Flower show exhibit blossoms in the spotlight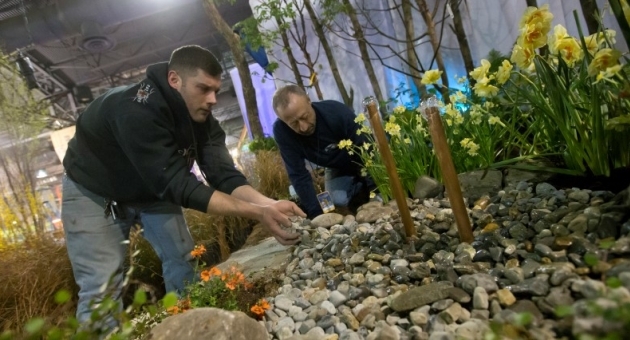 Months of hard work by Temple University Ambler students, faculty and staff in the Department of Landscape Architecture and Horticulture paid off with five special honors for its 2015 Philadelphia Flower Show exhibit, Star Power: Casts of Light that Stir and Spellbind.
The exhibit takes visitors on a journey through the blue hour, which occurs about an hour prior to sunrise, and the magic hour, the hour prior to sunset.
Star Power was awarded a Silver Medal by the Pennsylvania Horticultural Society; the American Horticultural Society Environmental Award, given for the "best demonstration of skillful design that incorporates environmental stewardship in the garden;" and the Alfred M. Campbell Memorial Trophy, awarded to "the educational major exhibit that demonstrates the most successful use of a variety of plants in a unique fashion."
The exhibit also received a Special Achievement Award of the Garden Club Federation of Pennsylvania in the "creativity" category, as well as a PHS Special Achievement Award.
Presented by the Pennsylvania Horticultural Society, the 2015 Philadelphia Flower Show—with its cinematic "Lights, Camera, Bloom!" theme—runs from Saturday, Feb. 28, through Sunday, March 8, at the Pennsylvania Convention Center.
Through lighting, architecture and water elements, and a diverse plant palette, Star Power illustrates why filmmakers choose to shoot outdoors during these contrasting times of day.
"Our exhibit captures the experiences presented during both of these time periods through a combination of beauty, action and illusions," said Rob Kuper, associate professor of landscape architecture, who is coordinating Temple's 2015 Flower Show exhibit with adjunct assistant professor Michael LoFurno, horticulture technician Kathryn Reber and horticulture supervisor Anne Brennan.
"The idea is to explore sunlight and how it relates to the movies, while also examining how sunlight and the landscape affect plants, people and places." he said.
According to Reber, Star Power puts the spotlight on more than 1,500 plants, many of which are not native to the area.  
"Since the focus is on light this year and not specifically ecosystem-based, our plant choices were determined by color, texture and form rather than whether they were native to the region," she said. "The show's theme opened up a lot of possibilities for us—we're using plants from all over the world."
Temple University Ambler is one of only a handful of exhibitors that force their own plants for their exhibits.
"Each year we try to hone our forcing techniques," Reber said. "With this gray winter, we've been using a lot more lights in the greenhouse— light can be a big factor in how things emerge and their color as they emerge."
Following the show, much of the plant material will find a home at the Ambler Arboretum.
- Jim Duffy