Basketball's Fran Dunphy named Coach of the Year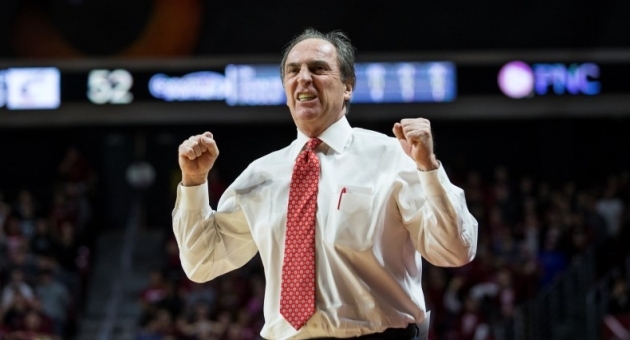 Temple University Men's Basketball Head Coach Fran Dunphy was named the 2015 American Athletic Conference Coach of the Year. This is the third time in his nine years at Temple that he has earned conference Coach of the Year honors.
Dunphy was previously named Atlantic 10 Conference Coach of the Year twice, in 2010 and 2012.
"I am humbled by this honor, as there are so many coaches deserving of this award in our conference," Dunphy said. "While this may read Coach of the Year, it is truly a team award."
Dunphy, who has also earned four Philadelphia Big 5 Coach of the Year honors during his tenure at Temple, was chosen by his counterparts as the American Coach of the Year after he engineered a remarkable turnaround for the Owls, who finished the season 22-9 overall and 13-5 in conference play.
Temple, which was 9-22 last season, scored a signature win against then-No. 10 Kansas, marking the Owls' sixth win over a Top 10 team over the last seven seasons. This is also the eighth straight season Temple has defeated a nationally ranked opponent, and the Owls surpassed the 20-win mark for the seventh time in nine seasons.
"Coach Dunphy personifies the talent, determination and drive of all Temple Owls," Temple President Neil D. Theobald said. "His leadership of the men's basketball team is simply tremendous. On behalf of everyone at Temple University, I want to congratulate Fran on this well-deserved honor."
The second all-time winningest coach in Big 5 play, Dunphy enters the postseason with 499 wins to rank 24th among active Division I coaches for career wins. He also has compiled 13 conference championships, including 10 Ivy League titles and three A10 crowns.
Temple, the fourth seed in the conference tournament, opens play against fifth-seed Memphis on Friday, March 13, at 2:00 p.m. The game will be broadcast on ESPN2 and Philadelphia's Talk Radio 1210 WPHT.