Nothing but praise for Temple's commuter lounge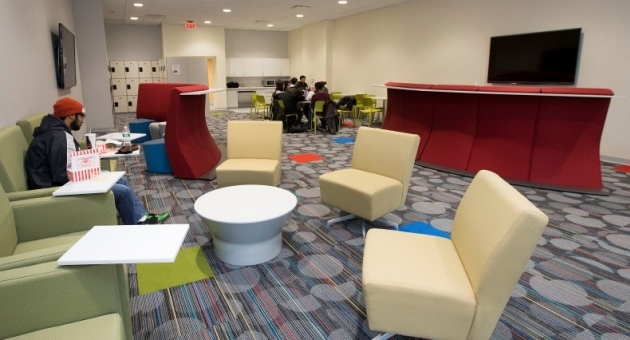 There is a new spot on campus for those on the go.
Temple University's new commuter lounge—located at the corner of Berks and Warnock streets—is now open.
Its close proximity to various modes of transportation makes the lounge convenient for student, faculty and staff commuters. The 1,750-square-foot space is near the SEPTA Regional Rail station, the Montgomery garage and SEPTA bus routes, including the 23 bus, which stops at 12th Street (southbound) and 11th Street (northbound) at Polett Walk.
The lounge has been popular since it officially opened January 12. "So far, we have gotten nothing but praise," said Jason Levy, senior director of student center operations at the Howard Gittis Student Center, who is responsible for the day-to-day operation and management of the lounge.
"We have had more than 3,500 'swipes' into the space and over 650 unique visitors to date," Levy added. Commuters access the secured space by swiping their TUid.
Ryan Olivier, Class of 2017, a doctoral student in music composition, appreciates having a roof over his head during his wait for a train. "It's nice that in the winter you can wait inside and be out of the cold, since the lounge is temperature-controlled," he said. "And I love that I'm never late for my train anymore."
Art education major Rachel Nisula, Class of 2015, loves the convenience of the lounge, and the new Saige Café located next door. "Before, I had to hang out in the library or another building, but I like how close the lounge is to the train station. Plus, the café makes it even better," she said.
Highlights of the space include WiFi, monitors displaying SEPTA's Regional Rail train schedules with real-time updates, comfortable lounge seating, tables, and two large flat screen televisions for both gaming and television viewing with adjacent amphitheater-style seating.
A kitchenette with two microwaves and a sink, gender-neutral restrooms, and lockers complete the lounge. Levy noted that the lockers are meant for daily use only and users need to provide their own locks.
Both students and Construction, Facilities & Operations identified the necessity of a commuter lounge. Securing a spot close to the train station took more than two years; during that time, undergraduates enrolled in President Neil D. Theobald's 2013–2014 Organizational Change at Temple University course recommended a design as part of a class project.
"From my perspective, the commuter lounge is an important service to provide to the entire campus community—not only students, but faculty and staff as well," explained Levy. "I'm glad we could make it a reality."
- Erica Brooke Fajge