Fox alumnus' website takes guesswork out of renting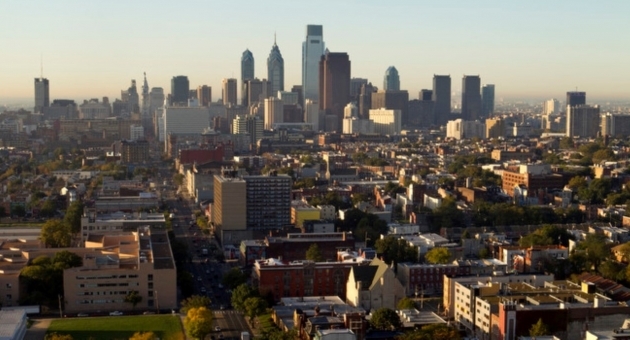 What began as a modest proposal has since developed into what one Fox School of Business alumnus hopes to develop into a million dollar business.
Ofo Ezeugwu, FOX '13, is president and chief executive officer of Whose Your Landlord, an online platform that allows users to rate property owners and college residence halls.
The site currently has more than 44,000 users—mostly in New York and Philadelphia—and continues to grow.
Ezeugwu said he chose the possessive form of the word who in the name of his business (versus the grammatically correct who's)  because he wants "the tenant to know that the power in the decision-making process is being returned to them."
"You look at sites like Yelp and Angie's List and Amazon, and what they've done is taken a product and added an interpersonal aspect to it to make something powerful," said Ezeugwu. "You not only look at your product, but you also look at peer ratings of the seller, and when that's the case, the consumer can make a more educated decision on what it is they're purchasing."
Ezeugwu, who served as vice president of external affairs for Temple Student Government (TSG), developed the idea for Whose Your Landlord while discussing student housing options with TSG representatives during a late night session.
"So I started to think about putting the power in student's hands. I thought, 'What if students could rate their landlords so that the students who follow them know what they're getting into before they even sign the lease?'" Ezeugwu said.
Whose Your Landlord went live in October 2012, and Ezeugwu has been busy ever since.
In the beginning, he used the income he earned as a fashion model to invest in the development of the site. He managed to keep the business afloat until his first big break came in April 2014 when he and his team won $20,500 in Temple's Be Your Own Boss Bowl.
From there, the business continued to grow. In June 2014, Whose Your Landlord was accepted into Rose Tech Venture real estate tech accelerator in New York, which came with a $10,000 award and a mentorship with David S. Rose, founder of New York Angels, an investment group.
The business continues to make tremendous strides. Recently  DreamIt Access, a Philadelphia-based idea incubator invested an additional $25,000 in seed money in exchange for a 6 percent equity stake in the young entrepreneurs' business.
"It's been a fun ride," said Ezeugwu, who recently moved his site's operations from Philadelphia to New York City.
Whose Your Landlord's team is Temple-rich. Co-founder Nick Korablin, SCT '13, who developed its first website, is an alumnus, and chief financial officer Kacper Rams, FOX '13, is a graduate of Fox's Finance program.
"Temple and the Fox School are well-represented around here," Ezeugwu said.
-Chris Vito and Jazmyn Burton